Why Knee-Length Skorts Are the Perfect Summer Staple?
When the temperature rises, so do the hemlines. But some of us prefer a more modest style, which is why knee-length skorts are the perfect summer staple.
While shorts are the go-to bottoms during the scorcher season or weather, a pair of knee-length skorts offers that chic and casual vibe with all the comfort you need. Known for its versatility and mobility, skorts can be paired with just about any top while providing that extra layer of cover for protection.
What are Knee-Length Skorts?
Knee-length skorts score the golden combination of shorts and skirt for that flattering feel of a skirt with the safety of shorts underneath it. Although they are usually donned by tennis and golf players and athletic enthusiasts, they can also be a part of your regular wardrobe for casual Fridays, a day date, and even as office attire, to name a few.
What is there not to love about this bottom? Whether it's an A-line or a pencil-cut silhouette, a skort radiates that feminine athleisure allure with that added protection of shorts underneath it to help anyone move as freely as a bird.
Why Choose Knee-Length Skorts?
With a pair of knee-length athletic skorts, you can walk and run as fast as you want to, sit in whatever position is comfortable for you, jump, skip, and dash, and be worry-free of anyone not seeing what's not supposed to be seen.
1. Comfort and Functionality
For those of us who are always on the go or who commute daily to work or school, these lovely Evergreen UPF 50+ Cotton Skorts are a must-have in your wardrobe. This knee-length skorts for women boasts comfort and functionality that not all regular skirts give.
With small slits on the sides to help maintain moveability, you can easily climb flights of stairs, run before an elevator door closes, and walk several miles in great style.
And fret not about looking like a bag of chips. With a high-rise style for better tummy control, it can easily camouflage unwanted flab with an adjustable drawstring for a more customized fit.
Easily retrieve your keys, tickets, coins, bills, and any other small stuff from any of its four pockets. Look preppy and ready without breaking a sweat.
2. Versatility in Outfit Pairings
The beauty about skirts in general is that they can be paired with just about any top to match any occasion or place you're going to. The same goes for women's knee-length skorts.
Heading to a girl's night out? Easily pair this Laureate UPF50+ Knee-Length Skort with a shimmering flirty top, some bling, or a pair of hoop earrings, and you're ready to paint the town red or dance the night away. No one will ever know that you're wearing a skort.
For a lovely day date, picnic, or stroll around the park, throwing on a tank top, cropped top, or any of those cute baby tees should do the trick of looking cute with that coveted feminine aura.
Want to radiate that powerhouse energy in the office? Pair your knee-length athletic skort with a button-down blouse and blazer to show the world who's the boss.
3. Breathability and Airiness
In the same way that wearing a skirt assures consistent airflow to allow our skin to breathe, knee-length skorts for women provide the breathability and airiness we need to stay sweat-free.
Because knee-length athletic skorts were made primarily for sports and other athletic activities, the fabric usually has moisture-wicking properties. This means that it allows sweat to evaporate easily. As such, you won't feel sticky even when humidity arises. Moreover, the flatlock seams that knee-length skorts are known for ensure no chafing. So hello to staying fresh while looking fab.
4. Mobility and Active Lifestyle
Even if you're not an athlete or don't play any sport, we all want to wear clothing that allows greater mobility so that we can easily do the activities we need to do. Whether we're running an errand or simply hanging out somewhere, wearing knee-length skorts lets us accomplish our goals easily.
Made from fabric that allows greater mobility, women's knee-length skorts easily let us swing a racket or a club, run, do cartwheels, and kick, to name a few. Because of its built-in lining, there's better coverage, so nothing goes up.
If you live an active lifestyle, even if you're not physically active, having a pair of these awesome skorts lets you stay on top of your game.
5. Flattering Silhouette for All Body Types
The trump card of knee-length skorts is that it gives a flattering silhouette for all body types. Whatever body shape you have, there's a skort for you. Most are designed with an elastic and wide waistband and inner drawstring to easily hug and cover the waistline to achieve that coveted curve.
6. Variety of Designs and Styles
Variety is the spice of life, and Baleaf's knee-length skorts for women come in several designs and styles to fit any fashion taste. So if you're on the more athletic side, such as playing tennis or golf, cheerleading, running, cycling, boating, or hiking, to name a few, we have the perfect knee-length athletic skort for you. If you're on the more subdued or languid side, we also have selections that best complement your lifestyle and wardrobe. From those with drawstrings to high-waisted ones, Baleaf has a skort for you.
7. Effortless Summer Wardrobe
Summer is all about fun and the outdoors. So what better way to celebrate all its radiance and shine than to don a pair of knee-length skorts? Easily combat the rising temperatures by letting your legs breathe while looking pretty in a pair to match whatever top you have. Show off those legs and get that lovely sun-kissed look in a pair of knee-length skorts.
8. Sustainable and Eco-Friendly Options
Baleaf takes pride in using sustainable and eco-friendly materials in creating our knee-length athletic skorts lineup.
We're proud to say that 75% of the recycled nylon we use is from fishing nets, and 90% of the recycled polyester are from plastic bottles. Moreover, our production process is strictly monitored by the Global Recycle Standard (GRS), an international organization that sets requirements for third-party certification.
But we take sustainability a notch higher by providing recyclable and biodegradable packaging. Unlike other bags, every purchase you make with us comes in a bag that decomposes within three years. As such, we help lessen the plastic problem in the world.
Shop Knee-Length Skorts on Baleaf
1. Laureate UPF50+ Knee-Length Skort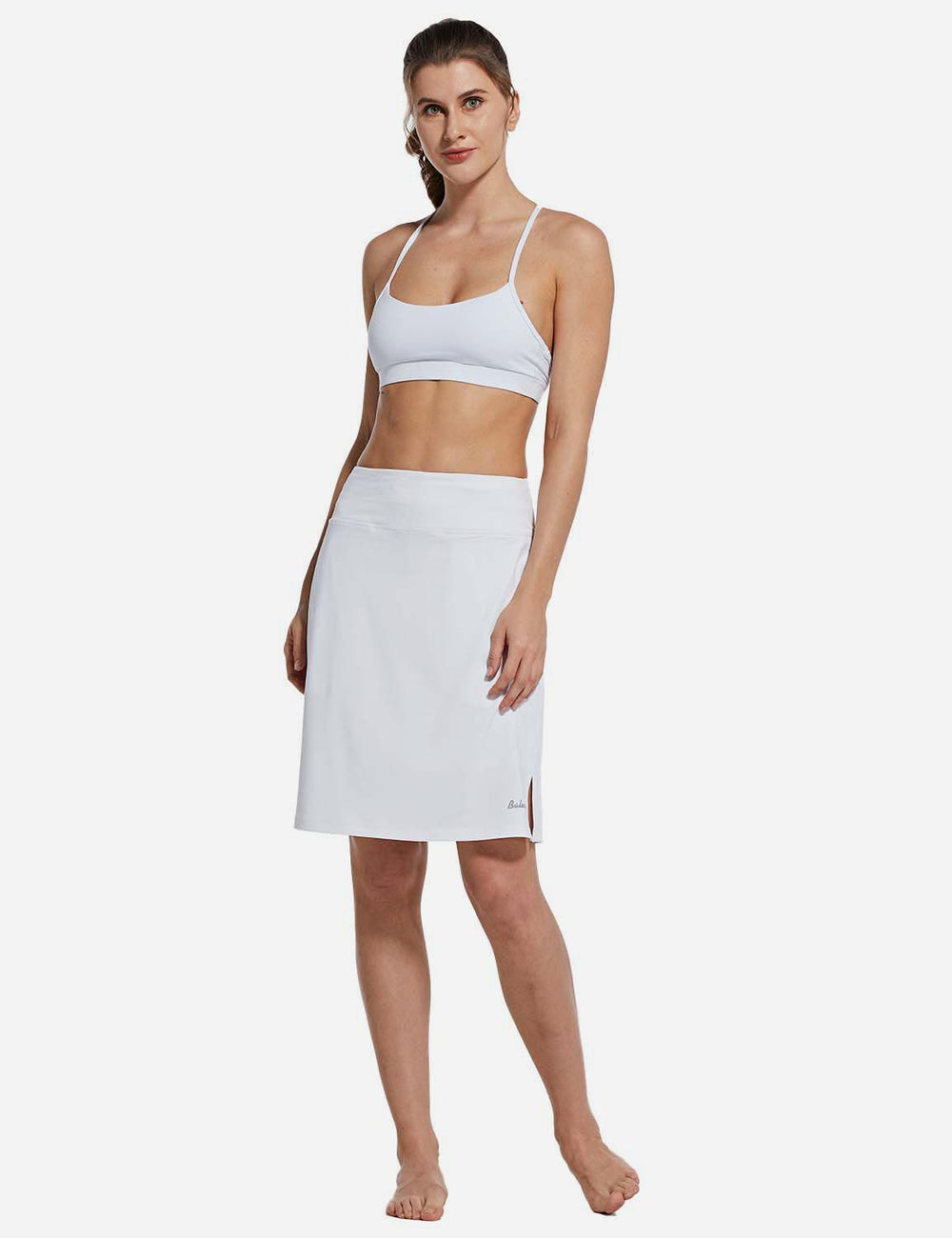 Made of 90% polyester and 10% spandex, this casual athletic skort comes with moisture-wicking and quick-drying abilities while offering UPF 50+ sun protection.
Its high-rise and wide waistband offers maximum coverage with an inner drawstring to keep the knee-length skort in place. Don't worry about the skort riding up because it comes with a built-in liner and a flatlock so there's no chafing. Keep all your valuables in place in any of its three pockets. This knee-length athletic skort is perfect for playing golf or tennis, running, boating, or hanging out on the beach.
2. Sustainable UPF50+ Knee-Length Skort
This versatile skort comes in a knee-length and high-rise style. Like the previous one, it has an inner drawstring to keep it in place with a wide waistband for maximum coverage and a built-in liner for additional production.
It has four pockets for storage and a split hem allowing greater mobility. So if you're into playing golf, tennis, running, cheerleading, cycling, hiking, or just simply living an active lifestyle, then this women's knee-length skort should be part of your wardrobe staple.
3. Sustainable 20" Knee-Length Skort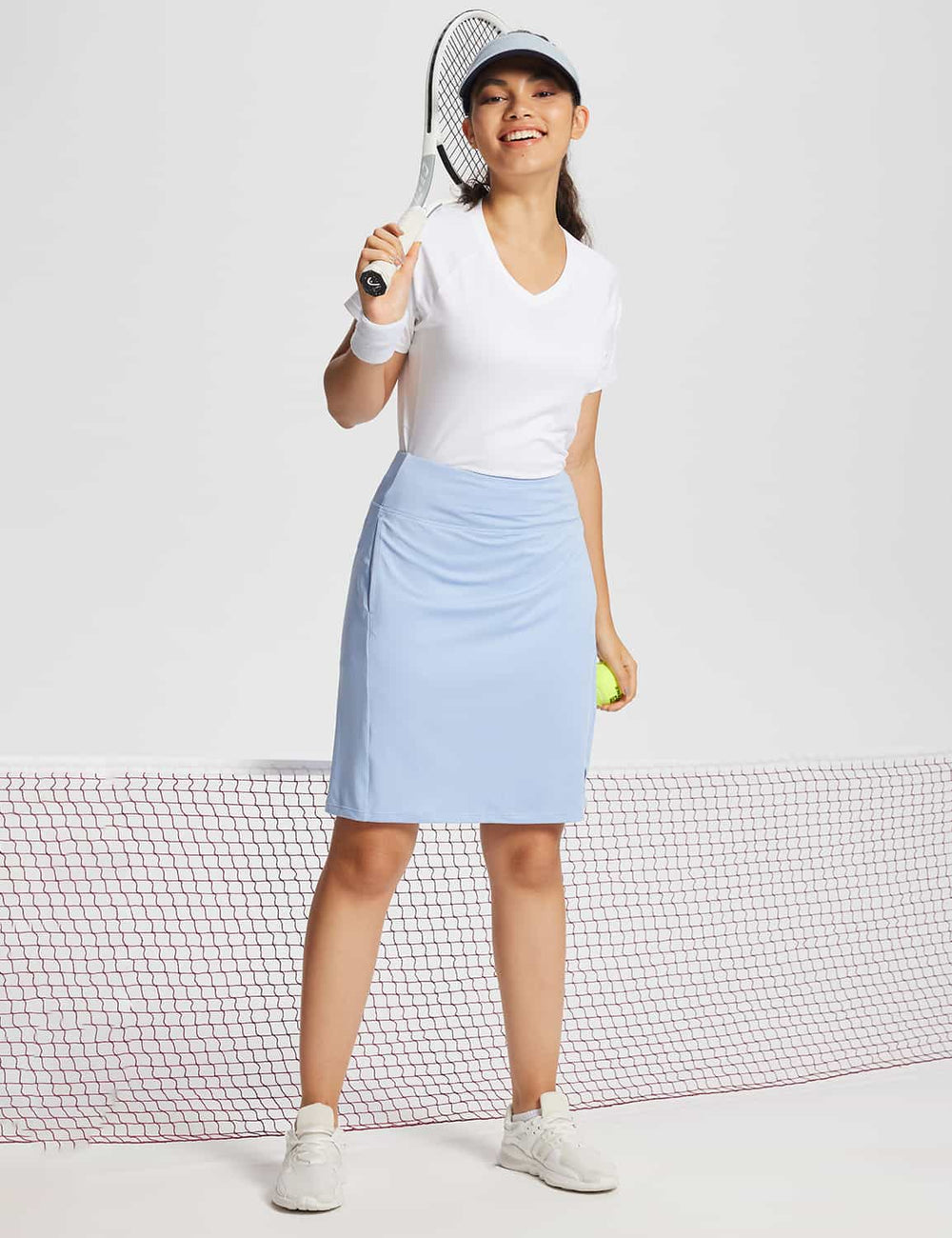 The in-seam length is 20" making this skort slightly different from the others on the list while offering similar features such as a high-rise knee-length style, a wide waistband and built-in liner, slit hem, and flatlock seams. This skort is also ideal for playing sports or as a daily casual wear.
4. Evergreen UPF 50+ Cotton Skorts
The combination of cotton and spandex sets this versatile knee-length skort from the rest. Moisture-wicking and breathable, it is perfect for any season as casual wear whether you're playing golf, walking, traveling, or any outdoor activity.
It comes with a high-rise style for better tummy control, an elastic closure, a drawstring for a more customized fit, built-in breathable shorts for additional coverage, and four pockets for your valuables.
5. Evergreen UPF50+ Knee-Length Skort
Made of 40% polyester, 30% cotton, and 30% Tencel, the Evergreen knee-length skorts for women not only are a 4-way stretch fabric but also offer moisture-wicking features. Like the rest, it comes with a high and wide waistband, side slits, pleated panels, elastic closure, adjustable drawstring, built-in breathable shorts, and three pockets (one big enough for a cellphone).
This skort is perfect for any season, golf, tennis, walking, traveling, or any outdoor activity.
A Knee-Length Skort is a Summer Must-Have
Knee-length skorts are one of the most versatile pieces of clothing you can own. They are perfect for any season or weather. They can be easily dressed up or dressed down while offering the security you need compared to wearing a regular skirt. With lots of functionality and versatility, don't you think it's about time you include a knee-length athletic skort in your wardrobe?