Our Five Awesome Leggings to Obsess With
Low-key fashion and normcore have become the dominant styles since post-2020 because most of us have started and shifted to working from home. In this day and age, joggers, chic hoodies, t-shirts, and cozy dresses have become fashion staples in any closet. And when we think of cozy fashion, the list would not be complete without our five awesome leggings to obsess with!
What's there not to love about leggings?
They boast comfort and versatility and come in various styles, sizes, print, and fit. Moreover, they give that coveted sleek curve most women desire because they contour perfectly into any body type and shape, complementing just about every piece of clothing you own. They are as pervasive as our beloved t-shirts and jeans and have stood the test of time. Just look at the latest trends and innovations in women's leggings, and you'll be pleasantly surprised.
Choosing the right kind of leggings not only to accentuate our body type but also for the right occasion is important to avoid any fashion faux pas. And with that, here are some of our handpicked leggings we need to have in our closet.
Multi-Colored Leggings
While many shy away from multi-colored leggings, they are, in actuality, as versatile and indispensable as neutral-colored ones. A splash of color spells fun and prolly what your get-up needs, especially on gloomy days. So go ahead and be bold in choosing colored leggings that best complements your skin undertone. With a bit of creativity and style, you'll be a fashion spot-on!
It's always safe to go monochrome and basic with colored leggings. Bloom during spring or fall by pairing them with a solid-colored shirt, cropped top, or sports bra. Layer your top with an oversized t-shirt or a dark blazer during winter. Complete your overall look with some ankle boots or white sneakers for that low-key vibe.
High-Rise Leggings
Wearing high-rise leggings is the ultimate fashion hack for an instant tummy tuck without going under the knife. They squeeze in easily everything in the right place and stay put whether you're doing pilates or yoga, lifting weights, running, boxing, or just doing a regular errand. 
But beyond sucking in flabs, they elongate our legs and slim the hips by creating a silhouette and illusion of length because they run all the way up. You would love to show off long and well-toned legs, especially in a barre class.
But remember that a big part of making them look flattering is how you style them. While an oversized shirt or a loose top goes well with other legging styles, pairing them with high-rise leggings won't achieve the best effects. Instead, opt for a cropped top. Show off that sliver of skin right at the narrowest part of our tummy. Trust us when we say that it can make anyone instantly feel and look sexy.
However, if you want to go all the way in flaunting your sexy self as you pour out sweat, then go for a just-bra workout. They go well together and are the most fun to style as a set.
Fleece-Lined Leggings
When the wind becomes nippy and the temperatures begin to drop, it's time to layer up in a pair of fleece-lined leggings and feel the warmth that the cold seasons brings.
While our regular black leggings remain a year-after-year wardrobe hero, their fleece-lined counterpart knocks them off the pedestal during the cold months. Consider fleece-lined leggings as your savior in case you still want to don a mini or skater skirt when snow falls.
Just like most other leggings, styling these fleece-lined bottoms offers not only the much-needed insulation but also the versatility in building an outfit around them with everyday clothes in a wardrobe.
Curl up in them with an oversized sweater, turtleneck top, or a baggy oversized top. They go well also with down jackets for that extra heat you need. And if you plan to jog even when the temperatures are down, these awesome fleece-lined bottoms do the trick in keeping you warm.
Ski Leggings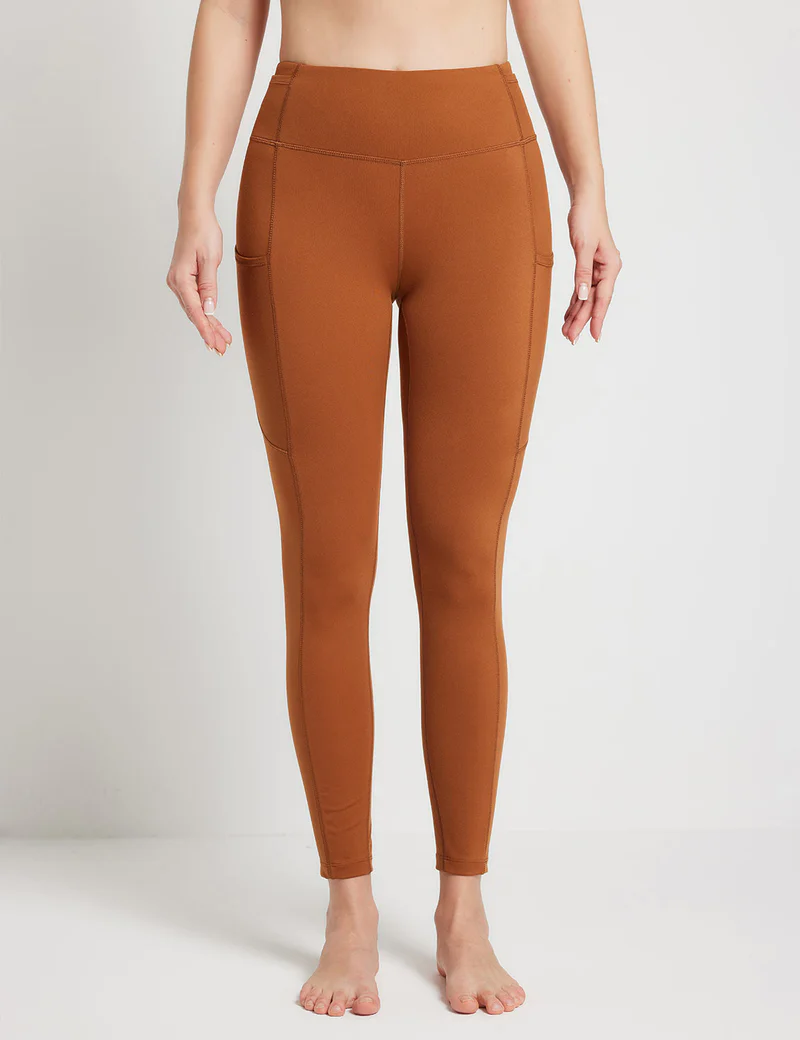 Our flexible and multifaceted ski leggings protect you from the cold and allow you to schuss in style on the slopes.
With our nifty pair of ski leggings, you get to hit the slopes in a sporty fashion without freezing in the snow. Each pair we have is made from 75% polyester and 25% spandex to allow movement and give warmth. Because you're in the snow, we made it water-resistant but breathable enough for your skin to exhale. As such, they make the perfect base layer under your ski pants or trousers.
Here at Baleaf, we believe that you can put together certain pieces of your large winter wardrobe and not simply be "ski-specific." If you want to rock the model-look vibe, then pairing your ski leggings with a sweater or a leather jacket makes a perfect jet-setting ensemble.
Thermal Leggings
Thermal clothing is everyone's savior to keep body heat in on extra cold days. Thermal leggings are the holy grail of the freezing temperatures. Wearing the best thermal leggings for outdoor workouts in winter allows you to freely jog, exercise, cycle, or play any kind of sport while staying warm and letting your skin breathe, with a water-resistant material to prevent you from getting wet. 
Layer your thermal bottoms under a pair of jogger pants or jeans for the base layer of coziness. They also go well with office trousers for a more professional look. You can never go cold with thermal leggings.
Feel Cozy in a Pair of Leggings
Leggings are the BFF that won't ever let you down or feel cold whatever the season is. Easily style them up or down and you're good to go. Being so, these versatile pieces are a must-have in any closet for the practicality and style they bring.