The Ultimate Guide To Choosing Ski Leggings
We want to be able to jump, slide, and glide as we go down ski slopes. But if we're wearing heavy and bulky ski gear, our movements become limited. As such, we need to invest in quality ski clothing which includes the base layer to let skiing be an enjoyable experience. To help you know what base layer you need, specifically, for the bottom, we give you here the ultimate guide to choosing ski leggings.
What are ski leggings?
Ski leggings are classified as base layers. They are insulating garments worn close to the skin to regulate body temperature by wicking away sweat, ensuring dryness, and promoting warmth. They are available in various styles, such as sports bras, shirts, tights, briefs, and leggings, with options for both snug and loose fits. Additionally, base layers are offered in different thickness levels to cater to various temperature conditions and levels of physical activity. 
When skiing, leggings play an important role because you'll be using mostly your legs to slide down the slopes and stay warm. Wearing something that doesn't offer much protection from the cold or constricts movement might make your skiing experience an unpleasant one. Ski leggings may come as fleece-lined thermal pants while some are made from more sustainable materials like Baleaf's high-rise leggings.
So here's a guide to help you choose the best ski leggings when buying.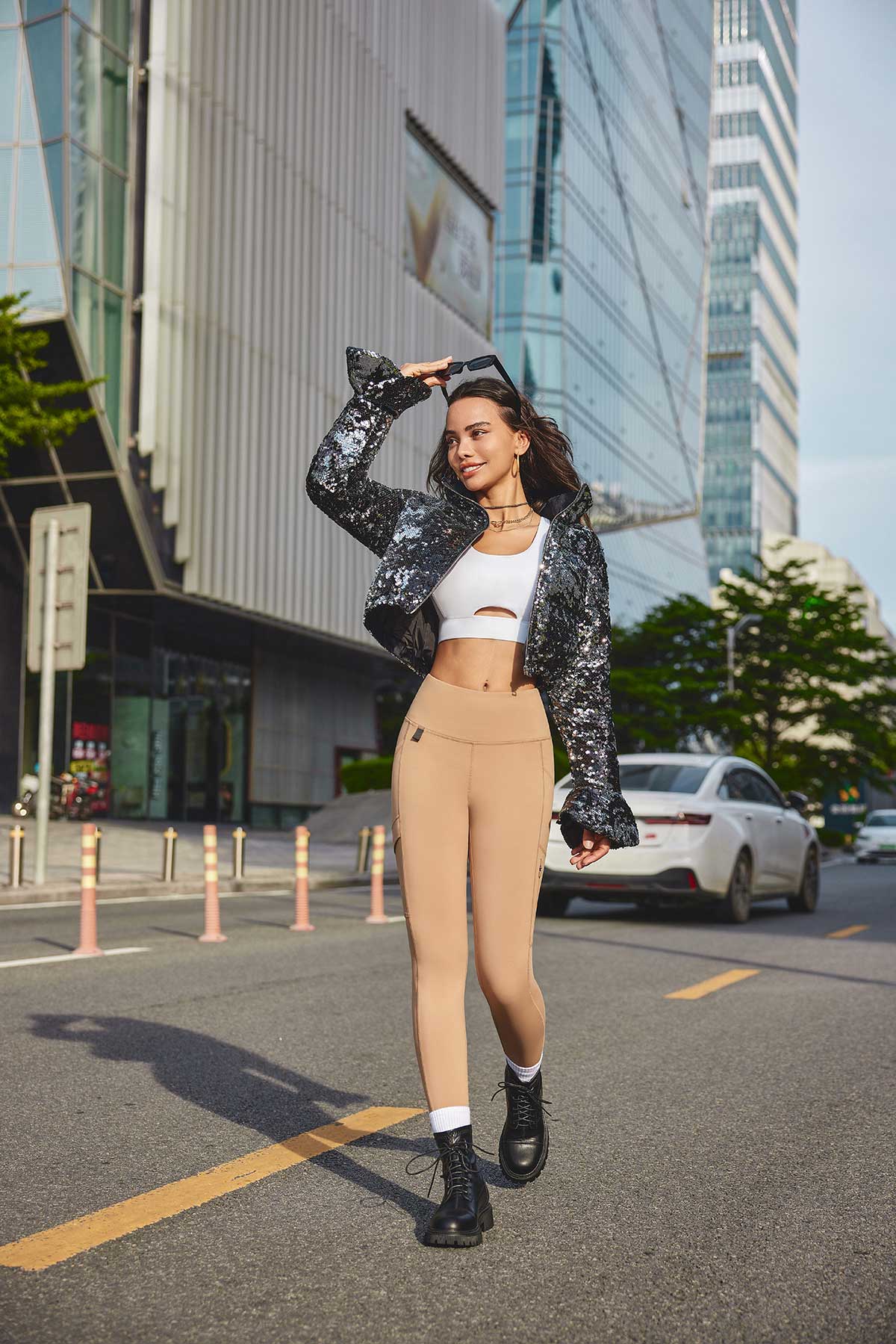 Fabric and Warmth
The kind of fabric used in the creation of a base layer, such as ski leggings, dictates its weight and insulating abilities.
Base layers are typically categorized as light, mid, or heavyweight, with most manufacturers and retailers providing this specification as "underwear weight" or "insulation weight." Some also offer the g/m2 measurement to indicate fabric thickness. Although there's no standardized approach, this information can be useful for comparing different models.
When selecting a category or fabric weight, it's important to consider the intended use, with a general rule that as fabric weight and thickness increase, warmth improves but moisture-wicking and breathability may decrease.
Lightweight Base Layers
Lightweight base layers, like sustainable seamless leggings, are highly breathable, excellent at moisture-wicking, and quick to dry. They are ideal for active outdoor pursuits like backpacking, running in cool weather, and ski touring when you need breathability and constant movement. However, they provide less insulation, making them less suitable for sedentary activities in very cold conditions, and they are generally less durable.
Midweight Base Layers
For those engaging in less strenuous activities or skiing at resorts, midweight base layers (200 to 300 g/m2) offer excellent versatility, providing warmth across a range of winter conditions while remaining breathable. However, they may become too warm and humid in milder weather due to their increased insulation.
Heavyweight Base Layers
Heavyweight base layers, designed for extremely cold conditions or less active situations like town walks or camp lounging, are less versatile due to their bulk and tendency to overheat unless it's very cold. It's common to use them as an additional layer over a lightweight base layer when extra insulation is required, but it's essential to assess whether this level of warmth is truly necessary or if mid-layer and outer-layer combinations can achieve the same purpose.
Sizing
Achieving the right fit for your base layer is essential for comfort and performance. A snug, close-to-the-body fit is ideal for optimal moisture-wicking and warmth, especially for active pursuits. However, a looser cut may be suitable for casual wear or when additional airflow is preferred, so it's advisable to try on various options and consider your primary use, with performance-focused fits being better for aerobic activities and roomier fits for more casual outings.
Waterproofing
Snow turns to water when it melts. It is important to stay dry in order to stay warm, especially when doing an activity outside, like skiing. To maintain dryness and warmth in winter, it's essential to pair a wicking base layer with a waterproof shell to protect against external moisture. 
Breathability
Apart from waterproofing and moisture-wicking properties a base layer should have is its breathability properties. Otherwise, you will feel stuffy and maybe even suffocated.
Breathability in a garment is determined by its resistance to air movement, with tighter weaves or solid shells being less breathable. More breathable workwear allows moisture to escape while preventing wind and keeping water from entering, ensuring sweat evaporates, keeping you dry.
Types of Ski Leggings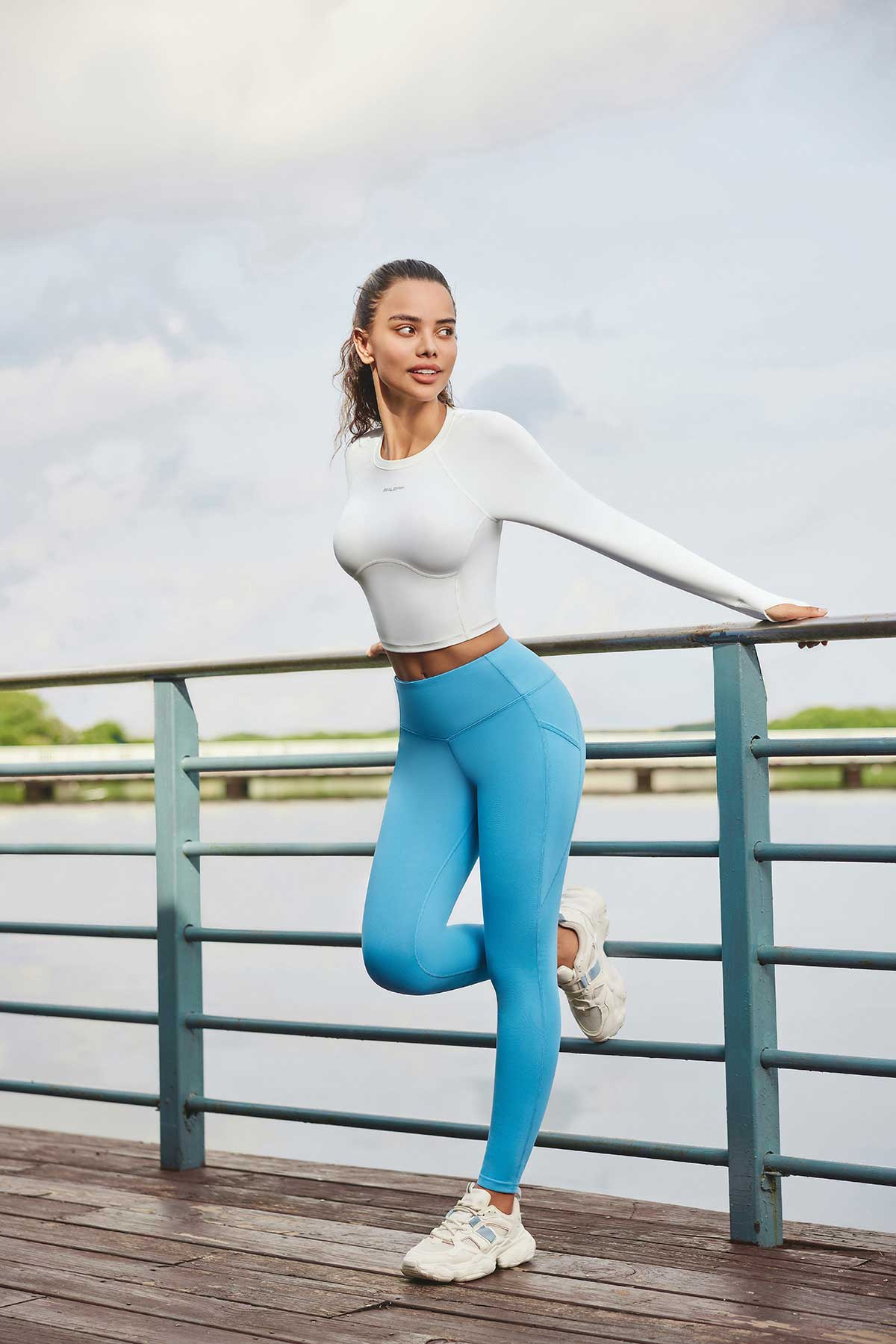 The type of ski leggings you will use depends on your activity and preference.
Thermal Water Resistant
Water resistance is crucial in winter, especially when temperatures drop below freezing, as your body loses heat 25 times faster in cold, wet conditions. For extended outdoor exposure, investing in a high-quality base layer that keeps you warm and dry is essential.
Fleece-Lined
Fleece is a common material for a base layer, serving as a primary defense against cold weather and often worn as outerwear. Fleece is valued for its warmth and moisture-wicking properties, making it an effective choice in cold but non-freezing conditions, helping to keep you dry and insulated for improved heat retention.
Maintenance and Care
A little T-L-C goes a long way if you want your ski leggings and other base layers to be usable for a number of times. Here are some practicable tips you can do to help them last for a long time. 
Read the care label.
It pays to read the "care label" not only of base layers but also all kinds of clothing. They offer specific instructions for processes like wash temperature and caution against activities like ironing and dry cleaning.
Avoid dry cleaning and fabric softeners.
Avoid dry cleaning base layers as it can remove treatment coatings and cause shrinking or melt spots. Do not use generic fabric softeners for base layer washing as they leave a waxy residue that hampers moisture transport in the fabric.
Wash at the right temperature.
For cleaning base layers, using a dedicated base layer wash or a general detergent on a low-temperature setting gives that extra touch of care, even if the care label allows for higher temperatures. Cold water is preferred for washing.
Avoid tumble-dryers when drying.
Base layers, especially those made of synthetic materials, have the advantage of minimal moisture absorption, making them dry quickly on a clothesline after a spin cycle. When drying indoors, avoid placing base layers directly on radiators; instead, use a collapsible clothes horse positioned near a radiator. The shrinkage of most base layers in tumble dryers is typically due to the duration of time they spend in the dryer rather than the heat. 
Avoid ironing.
No one will see a wrinkled base layer, anyway, because it's under your regular clothing. So it's best to refrain from ironing base layers because using the wrong temperature setting can lead to glazing or melting of the fabric, but if you hang them neatly for drying and fold them carefully when dry, you can prevent creases.
Hello to Quality Ski Leggings
Baleaf understands that wearing quality base layers, such as ski leggings, is vital to achieving comfort and protection from harsh cold weather conditions. This is why we offer you a diverse lineup of thermal leggings to make activities, like skiing, a memorable experience.