Airide — The Latest Baleaf Cycling Gear for a Comfier Ride
If you're a cycling enthusiast looking forward to a comfier ride, check out the details of Airide – the latest Baleaf cycling gear.
Keywords: cycling, cycling shorts, biking clothes, Lycra
Reading Time:4 minutes
Are you a cycling enthusiast looking to upgrade your cruising experience?
Then you need to check out the latest addition to Baleaf's cycling shorts, Airide. And that's what this post is all about.
Here you'll get an insight into Airide, the most recent addition to Baleaf's uniquely constructed product line featuring biking shorts for an easy and convenient biking experience.
Let's delve into the details.
Baleaf – A Leading Brand for Cycling Apparel
If you're a sports or workout fanatic, then you cannot not know about Baleaf.
What started as a contemporary activewear brand in 2014 has now turned into one of the leading sports apparel brands. Through constant innovation and investment in research, development, and technology, Baleaf has offered its customers the most updated and revolutionary workout gear while being an environmentally conscious business entity.
Regardless of the outdoor or indoor adventure or sport you're doing, Baleaf is sure to have something ready and looking great for you. From swimming to yoga, running to cycling, and work leisure, Baleaf offers clothing choices that may be too much for you to handle.
Currently, Baleaf is a leading cycling apparel brand, ranked #1 on Amazon for both men's and women's cycling underwear.  However, even the highest level on Amazon doesn't stop the company from breaking new ground.
And that's precisely why Baleaf has developed an upgraded product line for its on-the-road enthusiasts and named it Airide. Inspired by the name of a vehicle suspension system, Airide by Baleaf is all about upgrading your bicycle riding experience by offering exceptional support and protection against shocks for a comfier ride.
What Is

Airide

 by Baleaf All About?
Airide is Baleaf's latest cycling product range that's exclusively developed to maximize the comfort of the riders on the road. Offering an all-round support for a comfier ride, Airide products are made using Lycra fabric. They are designed to offer enhanced support and shock absorption to our on-the-go customers. Check out Do You Really Need Padded Cycling Shorts When Riding? to learn the importance of padded cycling shorts.
The unique fabric construct allows quick drying and moisture absorption to upgrade the cycling experience, especially during the hot and humid summers.
Airide makes an affordable product line for young and enthusiastic cyclists looking for all-around padded protection for their upcoming spring and summer cycling adventures.
Let's take an in-depth look at the features of this latest Baleaf product line.
●  
The Fabric – An Insight into Lycra
Over the last few years, Lycra has gained immense popularity as a fabric of choice for activewear.
Since the invention of the Lycra fiber over six decades ago, the synthetic thread has been known as the world's best spandex fiber. With its lightweight construct, the fiber became one of the most commonly used ingredients in sportswear, offering exceptional fit, lasting comfort, and enhanced durability.
The Lycra fiber offers exceptional elasticity, however to further improve its elasticity trait, a small amount of Lycra fiber is woven into polyester to create a much more stretchable fabric.
Baleaf's latest range of biking clothes, Airide, relies on the use of a unique blend of Lycra and polyester to create an upgraded fabric that's breathable, moisture-wicking, skin-friendly and highly stretchable for a convenient fit.
●  Construct and Design 
Cycling shorts are designed to fit your body properly, so you get appropriate support and comfort as you ride your bike.
The latest Airride cycling shorts feature an upgraded sponge structure that provides additional cushion. While the average cushion thickness is only about 14 mm, which is significantly lower than other competitors, the enhanced technology and design has enabled the company to develop a product that offers exceptional shock absorption and support despite its reduced thickness. An added advantage that this technology enables us to extend to our customers is that the shorts turn out to be extremely lightweight which further improves the cycling experience.
Baleaf Airide shorts are designed, so you get the most comfortable fitting without having to worry about the extra thickness of the sponge structure for better support. Using the latest technology and upgraded material, Airride cycling shorts take your biking comfort to the next level.
●  Padding
It might seem surprising, but you can still find cycling shorts that are not padded. The result is a desperate racer looking for relief from sores.
Fortunately, pad construction, improved design, and upgraded technology has made it possible to create padded bicycle shorts that are functional and comfortable. By investing in the latest technology, Baleaf's Airide product line features the most upgraded padding technology. With next-generation gel padding and extra silicone reinforcement, the cycling bottom offers ultimate protection, support, and comfort for an enhanced cycling experience.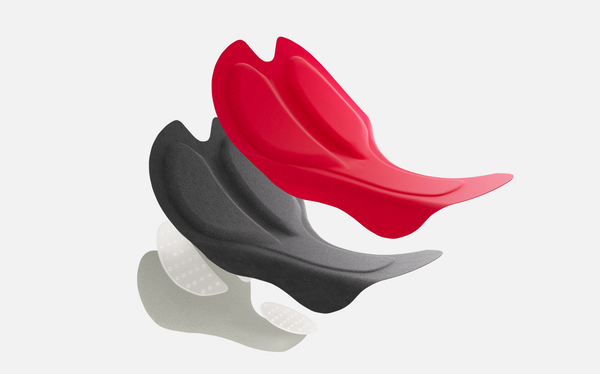 ●  The Perfect Fit
As with other biking clothes, your cycling shorts must offer the perfect fit; however, not all shorts are created to do so.
Several types of cycling shorts offer an unsecured, wobbly fit, whereas others have a constricted snug. However, with Airide cycling gear, you can look forward to bike shorts that offer the perfect fit. By relying on the most innovative technology, the shorts feature silicone leg grippers that prevent the shorts from riding up your legs as you ride your bike while offering a secure fit without discomfort.
Inspiring Airide Products for You
Aren't the features of the latest Baleaf product range impressive? Here are a few amazing Airide products to add to your cycling gear and enjoy a comfier ride.
The updated cycling shorts from the latest Baleaf product line Airide make a unique blend of durability and quality. With improved comfort, enhanced fit, and upgraded padding, these cycling shorts are developed for the best performance on the road.
With a skin-friendly texture and smooth feel, these are must-have shorts before you start this year's cycling season.
Featuring exceptional comfort, these Airide padded bike shorts for women are more stretchable and breathable than your traditional cycling shorts. The padded design and unique nylon and spandex blend upgrade the density layer and maximize comfort.
With a skin-friendly, moisture-wicking construct, these padded bike shorts give you all the right reasons to upgrade your cycling gear. Pair with the matching sports bra for an overall comfortable ride.  
Final Words
Through constant innovation, Baleaf strives to upgrade its product line frequently, so you always have something better for your wardrobe and all your indoor and outdoor adventures.
Click here to find out more about Baleaf and its amazing products.