Knee Length Skorts vs. Shorts: Which is Better for Your Summer Wardrobe?
Skorts are becoming increasingly popular among women, especially during summertime. Whether hitting the gym, going on a hike, having lunch with friends, or even dressing up for a stylish outfit for the night, skorts often make the perfect choice. But what about shorts? When are knee-length shorts used? Is there a difference between skorts and shorts?
Let's find out. 
In what follows, we look at skorts vs. shorts, which make popular athletic clothing, especially during the blazing summer heat. We also share insights into some of the most amazing skorts and shorts you can get this year, along with a few key considerations that can help you decide which is better for your summer wardrobe.
So, let's get started.
Knee Length Skorts vs. Knee Length Shorts
Why Go For Knee-Length Shorts or Skorts?
As the days start to get longer and the weather gets warmer, know that it's time to revamp your wardrobe.
Switch your yoga pants, leggings, and other full-length bottoms with alternatives like knee-length skorts and knee-length shorts, which help you stay cooler in summer, especially if you're a fitness enthusiast. With knee-length bottoms, you can enjoy greater flexibility without compromising on comfort, as they don't slide down or dig in, particularly when you're moving while exercising.
Moreover, knee-length skorts and shorts are a perfect addition to your wardrobe as they also add style and appeal. With knee-length bottoms, your legs look longer and more beautiful, and your body appears more proportionate.
Hence, choosing knee-length bottoms are always an excellent choice for summer as they make a great mix of style and functionality.
Skorts vs. Shorts – Understanding the Differences
What are Skorts?
Skorts are an amazing combination of shorts and skirts. The uniquely designed bottom combines the comfort of a pair of shorts with the style of a skirt to give you comfort, freedom of movement, and a unique look.
Whether you're going for a hike, playing tennis or golf, or heading for a bike ride, whatever you're doing today, a skort might prove to be the right choice. 
Over time, the unorthodox bottom evolved and became even more stylish. Today, you can find skorts available in various materials, colors, and styles to choose the one that best suits your style.
Baleaf, a contemporary activewear brand, caters to the needs of all fitness enthusiasts. It helps them maintain their style and appeal while offering the trendiest and most functional outfits. Some of the skorts by Baleaf which can be a great addition to your summer wardrobe include the following.
Laureate UPF50+ Pleated Skort
The High-rise Laureate UPF50+ Pleated Skort is designed to provide maximum coverage to your waist. With a high-rise style and a wide waistband with an inner drawstring, you can enjoy the perfect fit you need when getting active.
The Laureate UPF50+ Pleated skort is made using polyester and spandex, which is a quick-drying, moisture-wicking, and breathable material that is perfect for keeping you dry and cool on hot sunny days. The unique fabric construct also offers sun protection making it an ideal choice when out and about during long summer days.
The skorts also feature a hidden waistband pocket, a back zippered pocket on the skirt, and two side pockets for adequate storage when you're on the go.
Evergreen UPF 50+ Cotton Skorts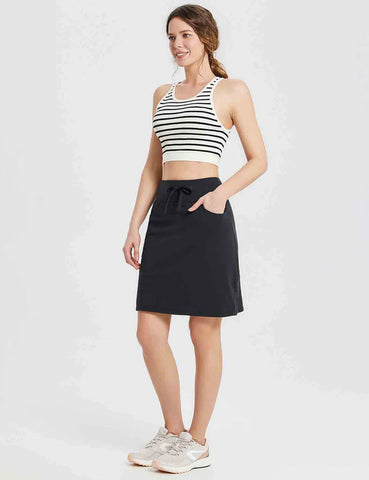 The Evergreen collection by Baleaf Offers UPF50+ Cotton Skorts, which are made using cotton and spandex to give you the perfect fit while keeping you cool and comfortable during the hot and humid summers.
The four-way stretch fabric has a smooth feel and is breathable and moisture-wicking. Featuring knee-length coverage and high-rise style, these classic breathable skorts make the perfect choice for all your favorite outdoor activities this summer.
What are Shorts?
Unlike skorts, shorts are simply shorter-length bottoms that provide coverage to your upper legs. Knee leg shorts extend down to the knees covering the pelvic area while circling around the waistline.
Knee-length shorts make a perfect choice during the summer season, as they keep your legs cool and comfortable while providing you with the coverage you need. Knee-length shorts often make the perfect choice for outdoorsy women who look forward to the warm weather to pursue their favorite adventures.
However, unlike skorts, shorts do not have an extra layer of fabric. Hence, they do not offer the appearance of a skirt which is preferred by some women.
If you want to stay cool and comfortable this summer, Baleaf offers some amazing knee-length shorts for you.
Flyleaf Pull-On Bermuda Shorts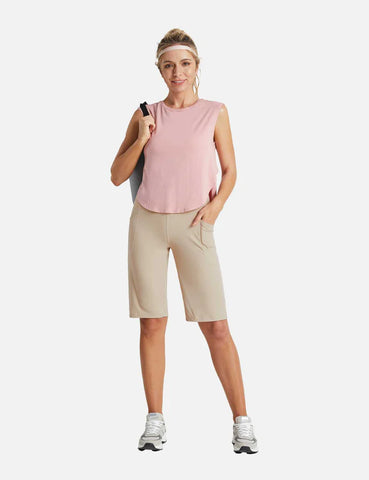 The high-rise, pull-on Bermuda shorts offer a relaxed fit that keeps you cool and breezy on hot summer days. Made using stretchable, moisture-wicking fabric, these shorts are designed to provide enhanced tummy control and flatlock seams that make them an ideal choice for your summer wardrobe.
Sustainable High-Rise Shorts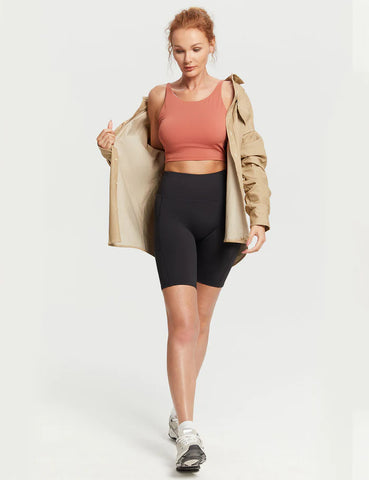 While Baleaf aims to provide the best quality athleisure to fitness enthusiasts, it's also an environmentally-friendly brand that offers sustainable products. Check out these sustainable high-rise shorts, which are made using recycled nylon and provide exceptional appeal and comfort.
Choosing Skorts vs. Shorts – Considerations When Choosing Skorts vs. Shorts
When choosing between shorts and skorts, here are a few considerations which you should keep in mind to make the right choice for yourself this summer.
Materials
Both skorts and shorts are made using stretchable, moisture wicking, and breathable material; however, the difference between the two lies in the number of layers. Skorts have an additional layer that offers better coverage, whereas shorts are made using non-see-through, squat-proof material that can withstand extreme movements.
Comfort
Comfort is another critical factor that helps women decide whether to go for skorts or shorts. The good news is that both skorts and shorts can provide you with the comfort you need.
Durability
Durability heavily depends on the type of fabric and construct. Typically, certain types of fabric may need extra care compared to their thicker and more sturdy counterparts.
Where to Wear
We live in a world that's becoming increasingly casual, yet your choice of skorts vs. shorts can be influenced by where you intend to wear the desired bottom. Skorts often make the right choice when you're heading out to play tennis or golf or are going for a hike. But you can also wear them as part of your evening wear.
However, shorts are better suited for gyms and workouts which involve intense movements.
Cost
While there isn't much difference between the price of skorts vs. shorts, the cost often influences the decision of whether to opt for skorts or shorts.
Key Takeaways
If you're an outdoor adventure lover or fitness enthusiast, it's time to switch your leggings and yoga pants for knee-length bottoms. Check out our latest collection of skorts and shorts and decide which makes the best choice for your summer wardrobe this year.