How To Plan and Prepare for a Mountain Biking Adventure
When thinking about a long weekend or holiday, most people think of luxurious vacations, beach trips, or catching up on rest. Few would consider embarking on a mountain biking adventure with minimal essentials to connect with nature despite the well-being benefits it offers. But if you're up for the adventurous challenge that mountain biking gives, hop in for a quick refresher on how to plan and prepare for a mountain biking adventure.
What is mountain biking?
Mountain biking involves navigating diverse off-beaten trails, endurance, speed, balance, and technical abilities while seeing the world as a thrilling adventure playground. Various disciplines cater to riders of all levels, with beginners benefitting from guided rides.
Mountain biking is a dynamic sport that provides a comprehensive workout, engaging the lower and upper body while enhancing cardiovascular health, balance, coordination, and stability. Additionally, the ever-changing outdoor surroundings offer mental relaxation and stress-relieving benefits.
Some people embrace mountain biking as a competitive sport, participating in races and seeking exhilarating paths worldwide. Others find joy in it as a recreational activity that offers exercise and a connection with nature.
Whatever your reason for wanting to get on a bike, you're sure to reap its many benefits. Get ready for an off-road adventure by thoroughly inspecting your gear, selecting an appropriate trail for your skill level, and staying hydrated during your journey to enjoy the ride.
Types of Mountain Biking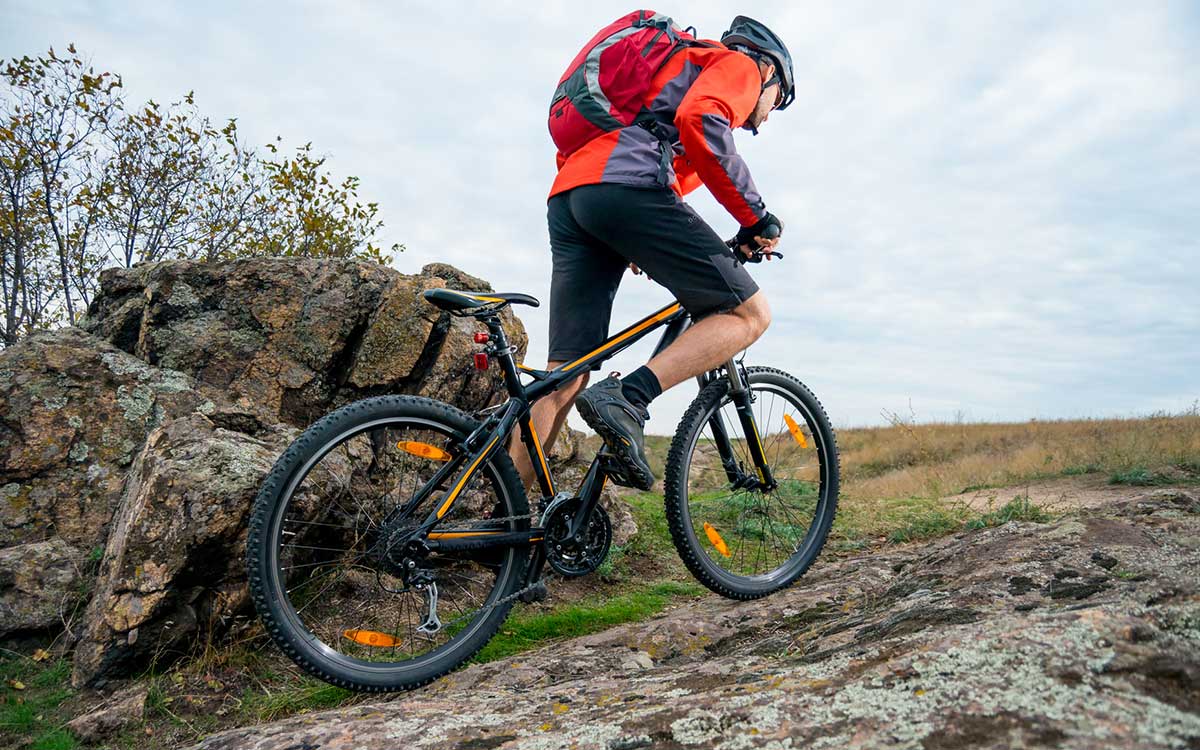 Mountain biking is a year-round activity, with locations offering varying experiences depending on the season and weather conditions, adding to the challenge and excitement of the sport.
Trail Riding
Trail riding, a recreational form of cycling, entails enjoying marked trails that encompass both uphill and downhill sections for a pleasurable riding experience.
Cross-Country Cycling or XC
Cross-country cycling (XC), the most popular type of mountain biking, involves completing designated circuit or point-to-point long trails across diverse terrains, from single tracks to fire roads or even paved roads, with technical sections featuring natural or man-made obstacles, emphasizing endurance and bike handling skills rather than speed. XC bikes are typically lightweight.
Downhill Biking
Downhill biking is an exhilarating kind of mountain biking. Its focus is on descending trails at high speeds, often starting from mountain peaks reached by cars or lifts, frequently found at summer ski resorts, requiring bikers to stand throughout, resulting in a physically demanding workout. Downhill bikes are heavier, equipped with full suspension, and optimized for high-speed descents compared to cross-country bikes.
All Mountain Biking
All mountain biking combines the best elements of cross-country cycling and downhill, involving navigating natural terrains with obstacles composed of uphill and downhill sections.
Enduro
'Enduro' is a European-born competition featuring multiple stages, encompassing uphill and downhill sections, akin to 'all mountain' but with a competitive racing aspect.
Mountain Biking Safety Measures
To fully engage in the natural world and embark on mountain biking trails, beginners should first gain some practice, acquire a durable off-road bike, the necessary safety equipment, and make use of these mountain biking tips to feel the rush of this exhilarating experience.
Create a plan.
Planning is crucial for a successful mountain biking adventure. It includes various aspects, such as deciding whether to ride alone or in a group, selecting suitable trails, acquiring necessary gear and accessories for a comfortable ride, and determining the trip's duration to prevent later complications.
In fact, many riders meticulously plan their mid-length and long journeys up to 18 months or a year in advance because comprehensive planning provides insights into costs, required equipment, and chosen destinations.
Train with an expert.
It's essential to be a confident rider capable of navigating technical terrains smoothly. Getting the guidance of an experienced trainer provides access to expert techniques that enable you to tackle trail challenges seamlessly and deliver the sought-after adrenaline rush.
Building confidence as an adventure rider is paramount for an enjoyable trail experience, and professional mountain biking training can help you overcome anxieties and apprehensions. Moreover, seeking guidance from experts and mentors can aid in choosing the most suitable mountain bike for your adventure. 
Get the right fitness level.
Because you'd train with an expert, you'll definitely get the right fitness level. Physical training is needed in advance to optimize your physical condition. In addition to exercise, cultivate healthy eating habits to support your immune system, as riding in varying weather conditions can make you more susceptible to illness.
Consider consulting a dietitian or nutritionist to address your body's unique needs, and if you have any medical conditions, consult your healthcare provider for appropriate precautions and remedies, ensuring a more enjoyable time on the trails.
Study the terrains.
Understanding the difference of the landscape of various trails, ranging from family-friendly to expert-level, is essential for effective planning of your adventure trip.
Research about local trails.
When planning a mountain bike adventure, it's crucial to identify local and informal trails, as many online resources primarily feature well-known formal trails accessible to proficient riders.
Local trails, kept somewhat exclusive by local riders, offer unique experiences. Additionally, informal trails can elevate your adventure, but accessing them may require research, and practicing jumps and drop-offs is essential to prepare for the trail's demands. 
Create the logistics.
Once you've selected the trails and regions for your ride, create a transportation plan for reaching the starting point with your bike and gear. Consider options, such as booking a flight, using a recreational vehicle, or riding if the destination is nearby.
It's crucial to plan in advance, particularly when flying, to avoid last-minute expenses and potential ticket availability issues.
Practice using your shoes and pedals for the ride.
For experienced mountain bikers, the distinction between flat pedals and clipless pedals is well-known.
But if you're a beginner, it's vital to have compatible shoes for your pedals. Before your adventure trip, it's important to ride with the shoes you plan to use, practicing on different terrains to familiarize yourself with your footwear.
Prepare your gear.
To make your mountain bike adventure a pleasant and safe experience, ensure you have essential gear ready in advance, including your mountain bike, helmet, sunglasses, hydration pack, bike lube, gloves, power bank, and sunscreen.
Mountain Biking Equipment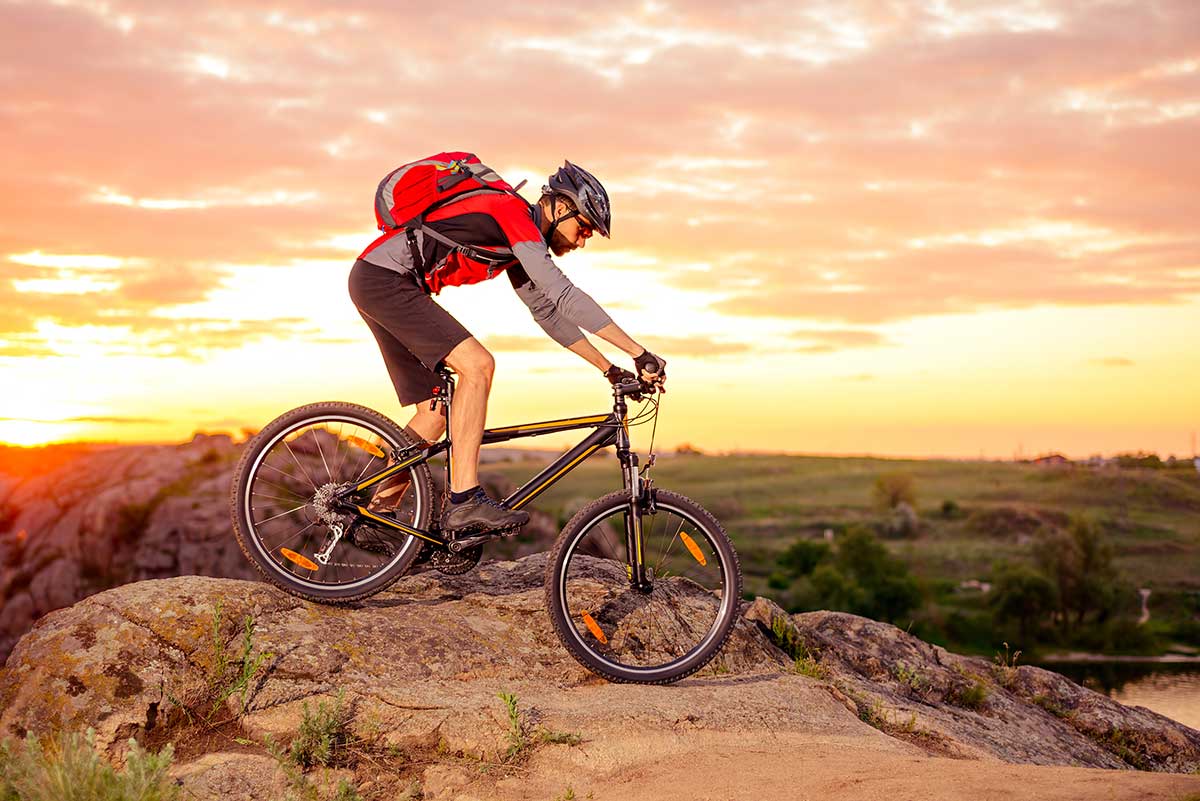 Having and using the right equipment ensures your safety and the other riders'. It will also make your ride a memorable one. Here are some of the equipment you need to prepare in advance:
Helmet
Never bike without wearing a helmet! It serves as your protection against accidents.
For mountain biking, select a full-face helmet with a chin guard, effective ventilation, a visor, and impact-resistant design, ensuring it can break easily in case of a significant crash for better protection during adventure riding.
Cycling Gear
Selecting the right mountain bike shorts is crucial as they can significantly influence your performance, providing comfort and confidence, with various materials and functionalities to cater to individual preferences. It's essential to choose the shorts that offer the utmost comfort. 
Men and women have different needs for cycling gear. Choose from a variety of biking clothing from men's cycling and women's cycling collections.
Hydration
Water is your best friend all throughout your ride.
Investing in quality hydration pack is recommended for staying hydrated during your mountain biking adventure, as it offers advantages over traditional water bottles. They are eco-friendly, lightweight, capable of carrying one to three liters of water, and also functioning as a backpack, allowing riders to drink water on the go.
Sunglasses
Sunglasses are an integral component of mountain biking gear, providing vital protection from harmful sun rays and eliminating glares for improved vision clarity, with photochromic glasses being the ideal choice for day and night rides due to their adaptive brightness.
Gloves
Selecting the appropriate mountain biking gloves, whether full-finger or fingerless and suited for cold or hot weather, is crucial for ensuring a comfortable and enjoyable trail experience.
Emergency Preparedness
An emergency can happen at any time, so it's best to be prepared for it.
Bring a first-aid kit with you.
Many mountain bikers underestimate the importance of first-aid kits, potentially leading to difficulties after a crash, so it's essential to carry a well-equipped kit, whether pre-made or self-assembled, for your adventure.
Creating a comprehensive kit is advisable to ensure adequate care in unforeseen situations and receiving first aid training beforehand is highly recommended as it educates you on proper use and boosts your confidence in handling unexpected events.
While a group may have a kit, each individual should carry his/her own because others may not always be nearby to provide assistance when needed on the trail.
Prepare a bike maintenance tool kit.
A bike maintenance tool kit is indispensable for addressing bike issues during your trail rides. It helps you to handle various problems without external assistance. However, it's equally important to familiarize yourself with the tools and their usage before embarking on your adventure.
Ensure you have the following in your tool kit: bike lube, power bank, and sunscreen. You'll never know when you're going to need them.
Get Stoked on Your Mountain Biking Adventure
You're about to embark on a journey that will bring you face-to-face with yourself and lead to a transformation together with nature. That's a reason to celebrate!