How To Plan a Perfect Ski Vacation: A Guide for Beginners
While winter receives plenty of attention for the holidays, it's also the season for enjoying chairlift rides, carving through fresh powder, and transitioning from the slopes to bars for aprés-ski fun. A ski trip, unlike a beach vacation, demands more planning and coordination, and this is where Baleaf comes in to give you friendly pieces of advice on how to plan a perfect ski vacation.
Ski Equipment
Skiing has undergone several changes and innovations since it's inception. "Skiing Through History" gives us interesting tidbits of information about its progress over the years and how it came to be the sport we are familiar with nowadays.
Skiing offers a satisfying experience. While you're excited for your next adventure, packing for a resort ski trip can seem daunting. Our list outlines all the necessary items, from essential equipment like skis and downhill boots to clothing, such as ski leggings, down pants, thermal jackets, windbreakers, and gloves, along with additional considerations to ensure a well-prepared trip.
All-Mountain Skis
Having a top-notch pair of skis beneath your feet is a boon, whether you're enjoying groomed runs or exploring the woods. When selecting your downhill gear, it's crucial to take into account both your preferred terrain and your skill level.
Consider beginner skis if you're new to the sport. They provide excellent value and a user-friendly platform for acquiring essential skills like turning, balance, and control, expediting the learning process and promoting proper technique. These beginner models are available in two formats: as an integrated system with included bindings or as flat skis, where you must acquire bindings separately.
Alpine/Downhill Bindings
The next crucial piece of downhill equipment is the ski binding, which comes in straightforward alpine designs with numerous reliable options.
When selecting a binding, it's important to determine the DIN (Deutsches Institut für Normung) rating, which indicates the force needed for the binding to release. Lighter, recreational skiers can opt for a lower DIN setting (around 8-11) for easier release, whereas more aggressive skiers should choose a higher number (12 and above).
Downhill Ski Boots
Comfortable boots are essential, regardless of your skill level, as a well-fitting pair instills confidence and ensures all-day comfort, while an improperly fitting boot can be uncomfortable and greatly impede performance.
We strongly advise visiting a local ski shop or gear outfitter to test and select boots suitable for your foot shape and experience level, ensuring they are downhill-specific for efficient power transfer and compatibility with your alpine bindings.
Poles
While downhill ski poles may seem straightforward, they serve a valuable purpose by establishing a rhythm for turns and assisting in propelling you along flat sections of the trail. These poles come in a variety of designs, including lightweight carbon models that can be more expensive and durable aluminum builds capable of withstanding off-trail use and the terrain park.
Helmet
For safety, wearing a ski helmet is mandatory at a resort, especially when skiing inbounds, where you're more likely to encounter crowded runs, other skiers out of control, and icy terrain. Recent innovations have made ski helmets lighter, safer, and more comfortable than before.
Goggles
Goggles play a dual role, protecting your eyes from the elements and ensuring a clear view of potential slope hazards. Recent market emphasis paved the way for lens quality and popular features like interchangeable lenses that offer options for sunny or overcast conditions.
Ski Clothing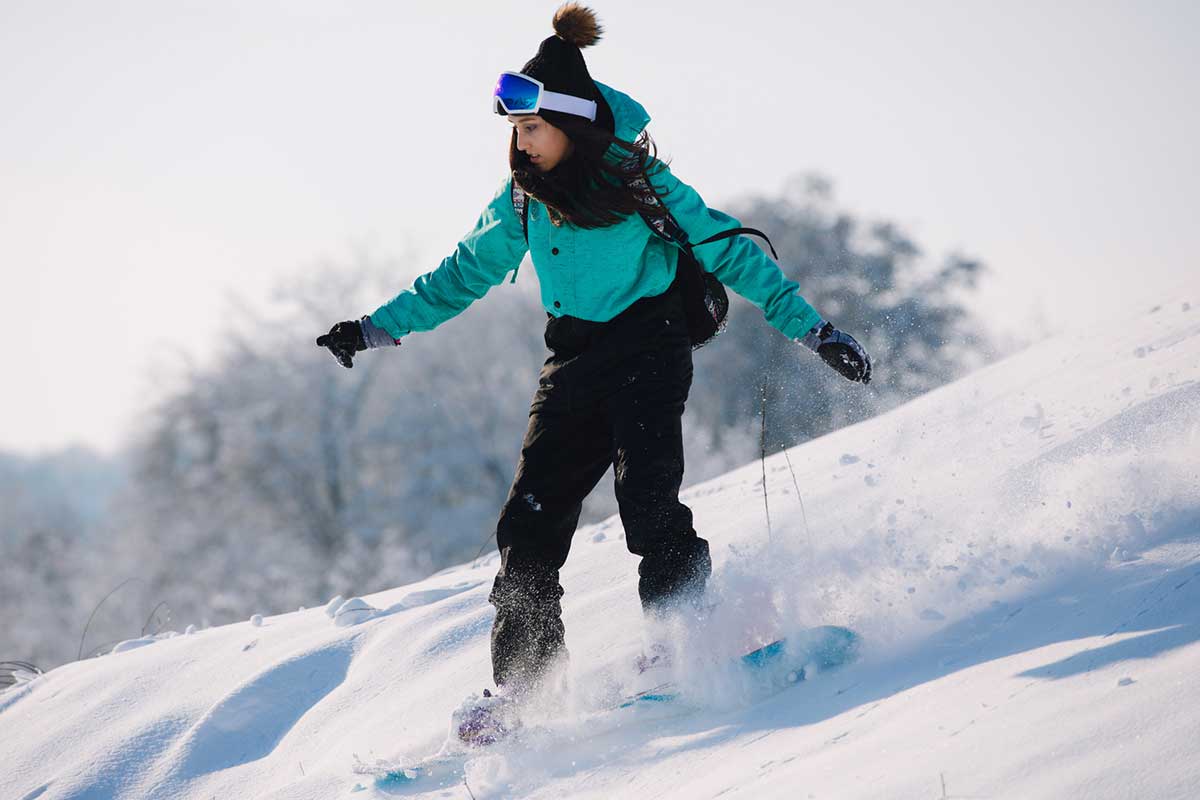 Proper ski clothing is crucial for an enjoyable and safe mountain holiday. The wrong attire poses potential life-threatening risks.
Wearing jeans, for example, is ill-advised, as denim retains moisture and takes a long time to dry, which can lead to freezing in cold conditions. Instead, opt for waterproof and breathable ski clothing worn in multiple layers to stay warm and comfortable.
Avoid thick clothing as it can trap sweat against your skin, causing rapid cooling and hindering movement. Base layers should have good wicking properties to remove moisture, and outer layers must be waterproof to prevent discomfort. 
Our "Ultimate Guide To Choosing Ski Leggings" should be able to provide you vital information when shopping for the perfect ski leggings to help you stay warm when gliding down the slopes.
How to Layer the Ski Clothing Essentials
Enjoying your ski vacation all boils down to layering. The last thing you want to feel is the coldness of the icy surroundings.
Socks
Thick socks can be deceiving because they retain moisture, leading to cold and discomfort while increasing the risk of blisters and exacerbating issues like 'shin bang' or calf problems. It's advisable to opt for high-quality, close-fitting wicking socks, even if they come at a slightly higher cost as they offer better insulation and comfort.
Base Layers
Opt for snug-fitting base layers with excellent moisture-wicking properties to keep you dry. Available in varying thicknesses based on your cold tolerance, these thermal sets come in both tops and bottoms. Loose-fitting thermals are less effective. 
Quality ski leggings do a wonderful job in keeping your legs warm, taking out moisture and allowing movement.
Insulating Layers
Your warmth primarily comes from the insulating layers, and you can choose to wear as many or as few as you prefer. For added warmth, go for thin fleeces or sweaters that are comfortable and easily storable while thicker options like water-resistant down jackets or synthetic fiber gilets, known for their excellent insulation, are ideal for those sensitive to the cold, being lightweight, packable, and suitable for wearing over other insulating layers.
Outer Layers
Waterproof and breathable materials are essential to ensure warmth and dryness. With your base and insulating layers, layering them with a pair of ski down pants lets you not only look fab but also warm under extreme weather conditions.
If you wear a pack, it's advisable to opt for more durable fabrics. The outer layer need not be excessively thick or insulated, as excessive warmth can lead to overheating, and it's important to rely on the insulating layers underneath for warmth rather than the outer layer.
Hats and Gloves
Hats and gloves should be waterproof and breathable. If you're into snowboarding, it's crucial to invest in quality, warm gloves since your hands will frequently come into contact with the snow.
Other Considerations
For warm conditions, remember to apply sunscreen and use a three-layer system, including a base layer, t-shirt, and outer layer. In cold conditions, layer up according to the temperature. And if it's extremely cold, carry extra layers as a precaution. It's always better to be safe than sorry!
Health and Safety Tips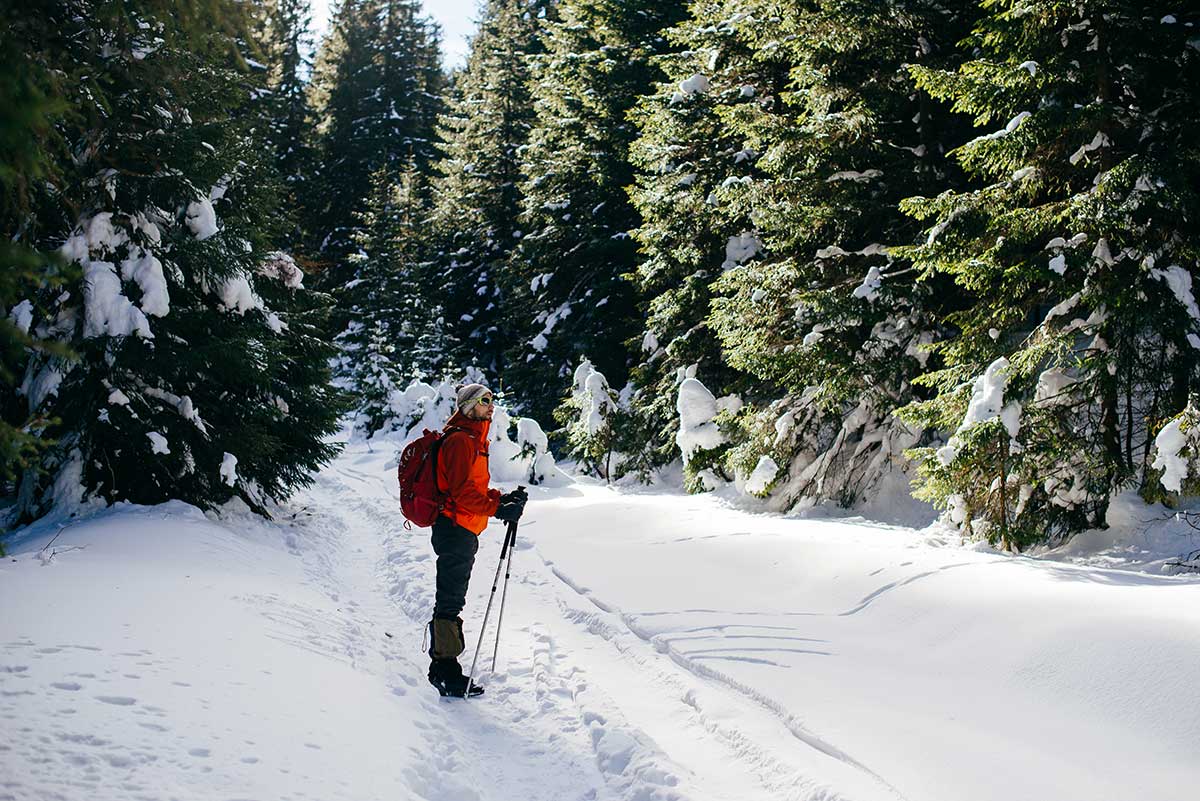 Some advanced planning can help you steer clear of hazards on the slopes, which is why we've compiled skiing safety tips and pre-trip considerations to keep in mind.
Choose your destinations wisely.
With numerous ski destinations to choose from, it's essential to explore your options to find the best one for your specific needs, considering factors like group size and family-friendliness. For beginners, established resorts with ample instructors are a recommended choice to kickstart your skiing journey.
Plan out your gear essentials.
You can be both practical but stylish. Ensure well-fitting boots, multiple layers of lightweight, waterproof clothing, including specialized goggles and helmets.
Most resorts offer equipment rentals, staffed with experts to guide you. Despite the cold, remember to apply sunscreen due to the stronger sun rays at higher altitudes to prevent coming off the slopes with a sunburn.
Know your limits.
Skiing accidents often happen when pushing limits, whether on challenging runs or extending the day, so it's crucial to be mindful of your abilities and fitness level for safety. Stick to trails within your capability and exercise caution, especially when fatigued, to avoid overextending yourself on that one extra run.
Eat healthily and stay hydrated.
Pay attention to your food and fluid intake before and during your day's activities. Skiing is physically demanding, so ensure you don't hit the slopes on an empty stomach and stay well-hydrated by drinking plenty of water.
Get to know the rules.
During the peak season, ski slopes can become crowded, and just as in driving, it's crucial to understand stopping, merging, and yielding to other skiers. If you're visiting a resort for the first time, take a moment to acquaint yourself with all the necessary details before hitting the slopes, and pay attention to any instructions or information provided by guides while you're out there.
Don't go off track.
Trail markings serve a crucial purpose. Venturing off-piste can be perilous. They are explicitly prohibited by numerous resorts, and even experienced skiers may encounter unexpected hazards. It's also highly risky to get into unguided areas.
If you can't resist the temptation, ensure you're accompanied by a qualified guide and inform the rest of your group in advance.
Stay in touch.
Ideally, your group should stay together, but in the excitement of the day, it can be challenging. However, ensuring everyone's mobile phones are charged and contactable before heading out not only facilitates easier reunions but also ensures swift access to help if necessary.
Let Baleaf Be With You in Your Ultimate Ski Vacation
With all the necessary preparations for an amazing ski trip complete, all that remains is to show up, unwind, and look forward to the snow and enjoyable moments ahead.