A Guide to Eco-Friendly Fabrics for Your Activewear
Sustainable living requires investing in eco-friendly fabrics, which can be challenging. Learn more about eco-friendly fabrics to enjoy versatility without compromising on sustainability.
Keywords: eco-friendly fabrics, fabric, sportswear, Recycled Nylon, polyester
Reading time: 3 minutes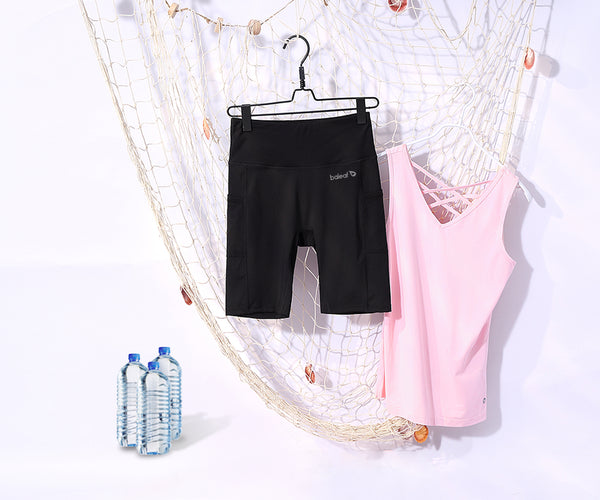 Do you want to look fabulous? Then all you need is to get some flashy clothes that make you stand out.
But did you know that you can still look great while living sustainably?
Shopping for eco-friendly fabrics can be challenging, though. With confusing labels and complex terms, it's often not easy to know which materials are actually good for the environment. Synthetic fabrics are easier to access and may also be cheaper, but they have a huge impact on the environment.
To help you understand eco-friendly fabrics better, we have compiled this one-stop-shop guide with the most common eco-friendly fabrics so you can shop with peace of mind.
But before we get into the details of common environmentally-friendly fabrics, let's look at some reasons why BALEAF –  your favorite activewear brand –  has adopted environmental protection policies.
Why Is BALEAF Adopting Environmental Safety Policies?
BALEAF is an environmentally-friendly brand that strives to produce eco-friendly sportswear that plays an active role in environmental protection. Our aim is to reduce waste during the manufacturing process by playing our part in reducing the plastic waste that ends up in the oceans when synthetic fabrics are washed.
During the COVID-19 pandemic, the consumer's view on sustainability changed significantly, and an increasing number of consumers now realize that being environmentally-friendly is the only way forward.
At BALEAF, we believe that environmental protection is within our reach. While it may require manufacturers to compromise on their profits and returns, we believe that sacrificing our profits to produce cost-effective products for our consumers so they can access sustainable products is worth it. Therefore, we are committed to increasing our production of eco-friendly products to 100% by 2035.
#1. Hemp
Hemp makes the most versatile plant on the planet. It can feed you and provide you with clothing, shelter, and even natural beauty products. What makes hemp a great choice for fabric is that it is one of the most eco-friendly fabrics around.
Hemp is warm and breathable and possesses several other qualities, such as moisture-wicking and antibacterial properties, making it a great choice of fabric for activewear. Hemp can be easily blended and makes a soft, durable fabric that continues to get softer with each wash. At the end of its life, hemp fabric is biodegradable.
Apart from these qualities that you get to enjoy with hemp clothing, the plant doesn't need a lot of water, making it an eco-friendly choice. Moreover, the hemp plant can produce two to three times more fiber per acre compared to cotton.
Furthermore, it doesn't extract all the nutrients from the soil where it grows. In fact, it replenishes the soil and makes it more fertile for the next crop.
With all these considerations in mind, it shouldn't surprise you that hemp is the best option when it comes to eco-friendly fabrics for activewear.
#2. Linen
Next on the list of eco-friendly fabrics for activewear is linen. The fabric is made from flax, which has been praised for its durability throughout the years.
Linen fabric is lightweight, breathable, and durable. It is also moth-resistant, lowers your body temperature in summers, and possesses antimicrobial properties, making linen an excellent choice for activewear fabric. Moreover, linen fabric is naturally biodegradable.
Along with these qualities, growing linen makes an eco-friendly choice. The plant requires far less water than cotton. Moreover, growing linen also doesn't need as many fertilizers and pesticides, which also contributes positively to the environment.
#3. Cotton
Cotton makes another eco-friendly fabric because the natural fiber is biodegradable at the end of its life. It is odor-free, comfortable, and hypoallergenic fabric.
However, cotton is one of the most environmentally demanding crops. It is primarily grown in dry and warm regions, and producing enough cotton fiber for a single t-shirt can require up to 700 gallons of water. Moreover, the cotton industry extensively uses insecticides and pesticides, which can result in thousands of deaths every year, especially in developing countries.
While organic cotton is becoming an increasingly popular alternative to conventional cotton, and it isn't grown using insecticides and pesticides, it is typically expensive, and the premium is often not affordable for the general population.
#4. Recycled Nylon
Apart from natural fibers, certain synthetic fibers also make eco-friendly fabrics for activewear, and recycled nylon is one of them.
Manufacturing recycled nylon involves using synthetic waste from ocean plastic and processing them to create new nylon fabric. Recycled nylon looks and feels exactly the same as nylon. Moreover, processing and recycling ocean plastic doesn't require as much water.
However, with recycled nylon, the problem of microplastics ending up in water still persists.
#5. Recycled Polyester
Recycled polyester makes another synthetic fiber that is made using plastic water bottles and other forms of plastic waste. The fabric produced using plastic is durable, quick-drying, and wrinkle-resistant, but it can take more than two centuries to decompose.
One of the benefits of recycling polyester is that it reduces the demand for the virgin plastic industry as it is heavily dependent on post-consumer recycled plastic, such as second-hand polyester garments, plastic containers, and water bottles.
Whether you are looking for activewear for running, cycling, or swimming, your choice of fabric matters, it may impact your pocket, but the effect doesn't end there. Your choice of fabric continues to impact the environment in the long run, which is why it is critical to make eco-friendly choices. We hope that this post serves as a guide for the next time you shop around for a new piece of activewear.
At BALEAF, you can find eco-friendly activewear as we work tirelessly to reduce our impact on the planet.
Now $10 OFF all 7 products.
Use code
BOTTLE10
at checkout to start your sustainable journey!
*Valid from May 25th-June 5th