Trendy Travel Essentials: UPF 50+ Sun Shirts for Wanderlust Explorations
Are you planning your next travel adventure? Whether you are exploring a new city, hiking a scenic trail, or relaxing on a sunny beach, you will want to pack some trendy travel essentials that will keep you comfortable and stylish. One of the most important items to bring along is a UPF 50+ sun shirt. These shirts are not only eye-catching, but also functional, as they provide excellent sun protection. We will tell you everything you need to know about UPF 50+ sun shirts and why they are a must-have for wanderlust adventures in this blog post.
What is UPF and why does it matter?
UPF stands for Ultraviolet Protection Factor, and it measures how well a fabric blocks ultraviolet (UV) radiation. UV radiation is the part of sunlight that can cause sunburn, skin damage, and skin cancer. The higher the UPF rating, the more UV radiation is blocked by the fabric. For example, a UPF 50+ sun shirt blocks 98% of UV radiation, while a regular cotton shirt only blocks about 5%.
UPF 50+ sun shirts are especially important for travelers who spend a lot of time outdoors, as they can reduce the risk of sunburn and skin damage. Sunburn can ruin your travel experience, as it can cause pain, peeling, blistering, and even fever. Skin damage can lead to premature aging, wrinkles, dark spots, and skin cancer. According to the Skin Cancer Foundation, more than 9,500 people in the U.S. are diagnosed with skin cancer every day, and one in five Americans will develop skin cancer by the age of 70.
How to Choose the Right UPF50+ Sun Shirt: Buying Guide
A UPF50+ shirt is a must-have for any outdoor enthusiast, whether you are hiking, fishing, golfing, or just relaxing in the sun.
But not all UPF50+ shirts are created equal. There are several factors to consider when choosing the right one for you. Here are some tips to help you find the perfect sun protection shirt for your needs and preferences.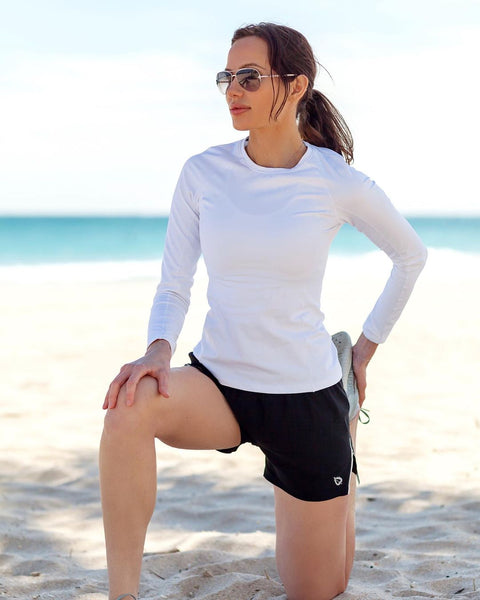 Fit
The fit of your sun protection shirt affects both your comfort and your protection. Your comfort and protection are both affected by the fit of your sun protection clothing. Chafing, discomfort, or overheating can occur when a shirt is too tight or too loose. Too short or too long a shirt can expose your skin to the sun or interfere with your activities. Look for a shirt that fits you nicely without being too tight or too loose. You want a shirt that allows you to move freely while yet adequately covering your arms, neck, and chest.
Comfort
Comfort is key when you are spending hours in the sun. You want a shirt that feels soft and smooth against your skin, rather than harsh or scratchy. You should also look for a shirt that wicks moisture and dries rapidly so you do not feel sweaty or clammy. Look for a shirt made from natural or synthetic fabrics with good breathability and moisture management. Fabrics that are heavy, stiff, or sticky should be avoided.
Breathability
Breathability measures how well a fabric enables air to circulate through it, which aids in temperature regulation and prevents overheating. A breathable fabric allows your skin to breathe and allows heat and moisture to escape from your body. Look for a shirt with a lightweight, airy, or mesh-like texture that promotes circulation and ventilation. Fabrics that are bulky, thick, or coated with chemicals that impair breathability should be avoided.
Versatility
Versatility means how well a shirt can adapt to different situations and environments. A versatile shirt can be worn in various seasons, climates, and occasions, without compromising your style or comfort. Look for a shirt that has a neutral or classic color that matches with different outfits and accessories. Look for a shirt that has a simple or elegant design that suits different settings and moods. Avoid fabrics that are too bright, flashy, or trendy that may clash with your wardrobe or surroundings.
Ventilation
Ventilation refers to openings or perforations in the fabric that allow extra air to flow through and cool you down. Some shirts have vents on the back, underarms, or sides that increase breathability and comfort.
Convertible sleeves
Convertible sleeves are sleeves that can be rolled up or down depending on the weather and your preference. Some shirts have buttons or tabs that secure the sleeves in place when rolled up. This gives you more flexibility and versatility in your sun protection.
Hidden pockets
Hidden pockets are pockets that are concealed in the seams or flaps of the shirt that provide extra storage space for your essentials. Some shirts contain zipped or buttoned pockets on the chest, sides, or sleeves to keep your belongings secure and accessible.
Best UPF50+ sun shirts for the outdoors
If you are looking for some high-quality and stylish UPF 50+ sun shirts to add to your travel wardrobe, you can check out Baleaf's collection of sun shirts for men and women. Baleaf is a brand that specializes in outdoor clothing and accessories that are durable, comfortable, and affordable. Here are five of their best-selling UPF 50+ sun shirts that we think you will love: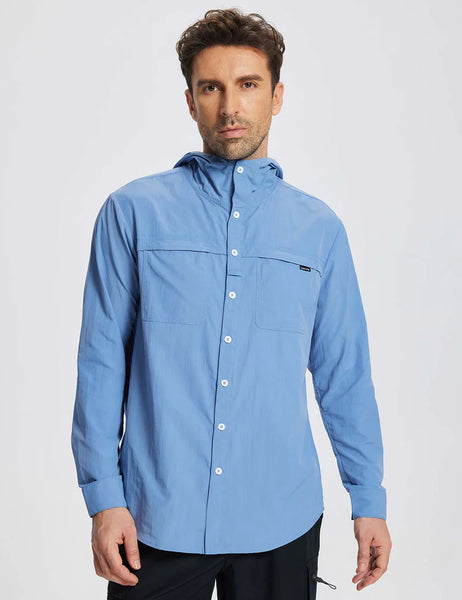 Men's UPF 50+ Sun Protection Hoodie
This hoodie is perfect for men who want to stay protected and cozy in cooler weather. It has a hood, a kangaroo pocket, and thumbholes that provide extra coverage and warmth. It also has a reflective logo that enhances your visibility in low-light conditions.
Baleaf Women's UPF 50+ Sun Protection T-Shirt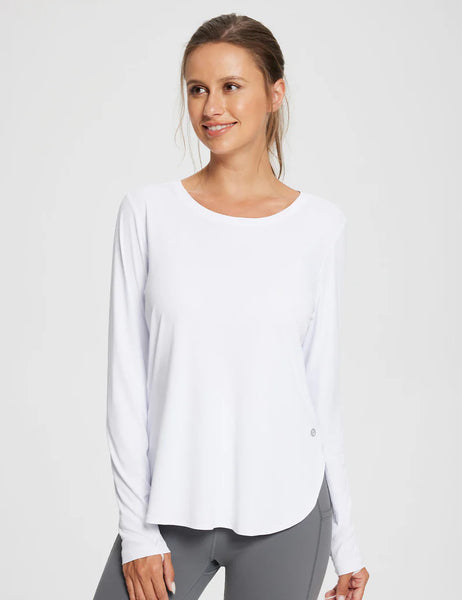 UPF 50+ Lightweight Sun Shirts
This t-shirt is ideal for women who want a simple and classic sun shirt that can go with anything. It has a crew neck, short sleeves, and a curved hem that flatter your figure. It also has a tag-free collar that prevents irritation and chafing.
Baleaf Men's UPF 50+ Sun Protection Fishing Shirt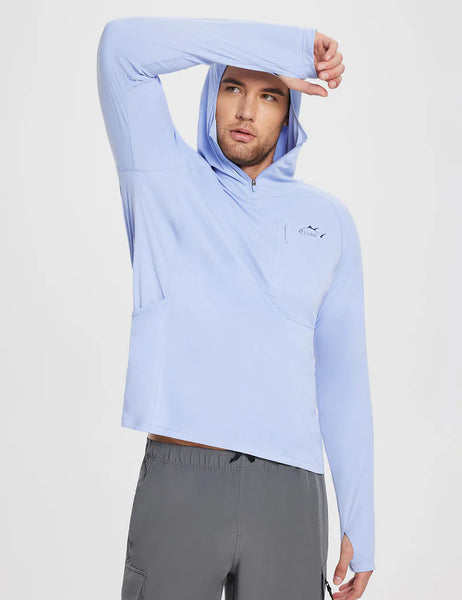 UPF 50+ Long-Sleeve Fishing Hoodie
This fishing shirt is great for men who enjoy fishing or other water activities. It has a button-down front, a collar, and long sleeves that can be rolled up or down. It also has two chest pockets, one with a flap and one with a zipper, that can store your fishing gear or other essentials. 
Baleaf Women's UPF 50+ Sun Protection Long Sleeve Shirt
This long sleeve shirt is suitable for women who want more coverage and protection from the sun. It has a button-down front, a collar, and long sleeves that can be rolled up or down. It also has three pockets, two side pockets and one chest pocket, that can store your belongings or add some style.
FAQ: UPF50+ Sun Shirts
Q: What is the difference between UPF and SPF?
A: UPF stands for Ultraviolet Protection Factor, and it measures how much UV radiation a fabric can block. SPF stands for Sun Protection Factor, and it measures how long a sunscreen can protect your skin from sunburn. Both are important, but they are not the same. UPF applies to clothing, while SPF applies to sunscreen. UPF is a more reliable indicator of sun protection than SPF because it does not depend on how much or how often you apply sunscreen.
Q: What makes some UPF50+ shirts better than others?
A: UPF50+ means that a shirt can block 98% of UV rays, which is the highest rating possible. However, not all UPF50+ shirts are created equal. Some factors that affect the quality and performance of UPF clothing are:
- The type of fabric: Natural fibers like cotton and linen tend to have lower UPF ratings than synthetic fibers like polyester and nylon because they are more porous and allow lighter to pass through. However, some natural fibers can be treated with chemicals or dyes to increase their UPF rating.
-The fabric's weave and weight: The tighter and heavier the weave, the more UV radiation it can block. Denim, for example, has a high UPF rating due to its thickness and density, whereas chiffon has a low UPF rating due to its thinness and sheerness.
- The color of the fabric: Darker colors tend to absorb more UV rays than lighter colors, which means they offer more protection. However, some lighter colors can also have high UPF ratings if they are treated with UV-inhibiting agents.
- The fabric's condition: Washing, stretching, and wearing can diminish a fabric's UPF rating over time, especially if it is exposed to chlorine, salt water, or sunlight. To maintain your clothing's UPF rating, follow the care directions on the label and avoid using bleach or fabric softeners.
Q: Is it better to wear long sleeves or short sleeves for hiking?
A: The answer depends on your personal preference and the weather conditions. Long sleeves offer more coverage and protection than short sleeves, especially for areas that are prone to sunburn like your shoulders and arms. However, long sleeves can also make you feel hotter and sweatier, especially in humid or tropical climates. Short sleeves can keep you cooler and more comfortable, but they also expose more skin to the sun. If you choose to wear short sleeves, make sure you apply sunscreen generously and frequently to your exposed skin.
Q: Should a hiking shirt be loose?
A: A hiking shirt should fit you well, but not too tight or too loose. A tight shirt can restrict your movement and cause chafing or irritation, while a loose shirt can flap around and create drag or noise. A good hiking shirt should have enough room for you to move freely and comfortably but also hug your body enough to prevent the excess fabric from getting in your way or catching on branches or rocks.
Q: Is it okay to wear black when hiking?
A: Yes, it is okay to wear black when hiking, if you are aware of the pros and cons. Black is a popular color for hiking clothing because it hides dirt and stains well, and it can also make you look slimmer and sleeker. However, black also absorbs more heat than other colors, which can make you feel hotter and sweatier in sunny or warm conditions. If you choose to wear black when hiking, make sure you balance it with lighter colors or accessories, such as a hat or a scarf, to reflect some of the heat away from your body.
Final Thoughts
UPF 50+ sun shirts are trendy travel essentials that you should pack for your next wanderlust exploration. They provide excellent protection from the sun's harmful rays, as well as many other benefits such as fit, comfort, breathability, versatility, and ease of care. They also have some additional features such as ventilation, convertible sleeves, and hidden pockets that can enhance your travel experience and convenience.
We hope you enjoyed this blog post and learned something new about UPF 50+ sun shirts. If you have any questions or comments, feel free to leave them below. Happy travels!