The Ultimate Guide to Fashionable Sports Pairings
Fashionable sports pairings are combinations of clothing items that are both functional and fashionable. They can help you express your personality, mood, and preferences while also keeping you comfortable and ready for any physical activity. Whether you are into yoga, running, cycling, or any other sport, there's a fashionable sport pairing for you!
Key Factors in Fashionable Sports Pairings
The material of your clothing is an important item to consider when constructing trendy sports pairs. Breathability, durability, flexibility, and moisture-wicking are all characteristics of different fabrics. You want to select materials that are appropriate for your sport, body shape, and personal preferences.
Here are some examples of sports that are suitable for different clothing materials:
Cotton: Cotton is a natural fiber that is soft, breathable, and absorbent. It is great for casual and low-intensity sports, such as walking, stretching, or Pilates.
Polyester: Polyester is a synthetic fiber that is durable, lightweight, and wrinkle resistant. It is ideal for high-intensity and outdoor sports, such as running, hiking, or skiing.
Spandex: Spandex is a synthetic fiber that is elastic, flexible, and smooth. It is perfect for form-fitting and body-hugging sports, such as yoga, dance, or gymnastics.
Wool: Wool is a natural fiber that is warm, cozy, and insulating. It is great for cold-weather and indoor sports, such as ice skating, curling, or bowling.
How to Choose the Right Size
One of the most important things to consider when buying sports clothing is the fit. You want to make sure your clothes are neither too tight nor too loose, as this can interfere with your performance and comfort. Here are some general guidelines on how to choose the right size for different types of sports clothing:
Look for tops that are snug but not restrictive, allowing you to move easily. Tops that are either loose or too short can get in your way or expose your skin. Layering your shirts can also provide warmth or style, such as putting a tank top under a hoodie or jacket.
Look for bottoms that are stretchy and breathable, and that fit your waist and hips well. Avoid bottoms that are too tight or too loose, as they can cause chafing or sagging. You can also mix and match your bottoms for different looks, such as wearing leggings under shorts or a skirt.
A Range of Sports Fashion Pairings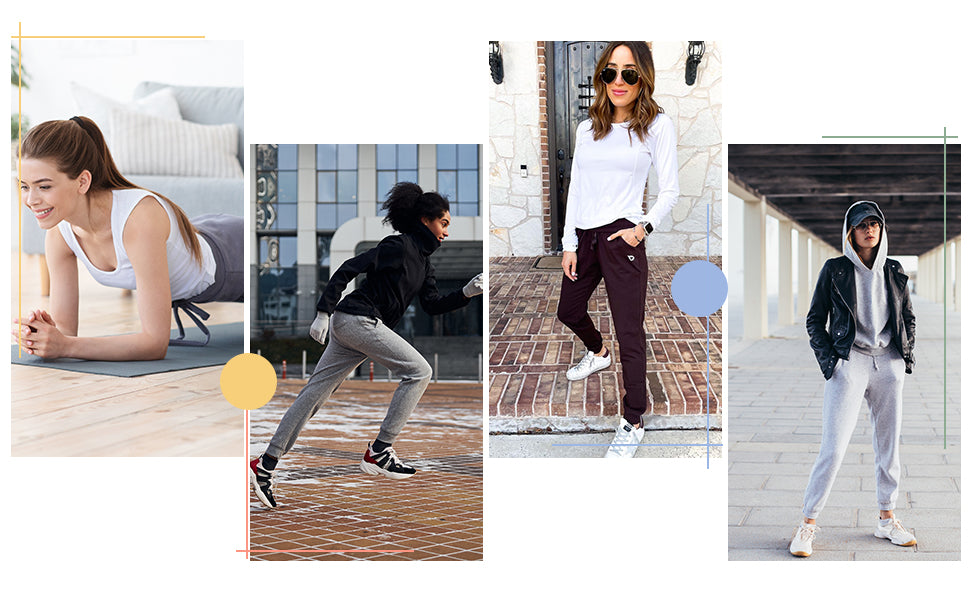 Now that you know how to choose the right size, let's move on to the fun part: creating some fabulous sports fashion pairings! Here are some examples of stylish ensembles for different activities, along with some tips on how to accessorize them:
Running
For running, you want to wear clothes that are lightweight and breathable, and that keep you cool and dry. A good example of a running outfit is a tank top and shorts, paired with sneakers and a cap.
Swimming
For swimming, you want to wear clothes that are water-resistant and quick-drying, and that protect you from the sun and chlorine. A good example of a swimming outfit is a swimsuit and a cover-up, paired with sandals and a hat.
Cycling
For cycling, you want to wear clothes that are tight-fitting and aerodynamic, and that prevent friction and wind resistance. A good example of a cycling outfit is a jersey and leggings, paired with cycling shoes and a helmet. You can also add some personality and fun with a backpack, gloves, or a scarf.
Tennis
For tennis, you want to wear clothes that are flexible and elegant, and that allow you to move gracefully and swiftly. A good example of a tennis outfit is a polo shirt and a skirt, paired with tennis shoes and a visor.
Golf
For golf, you want to wear clothes that are classy and refined, and that reflect your professionalism and skill. A good example of a golf outfit is a sweater and pants.
Hiking
For hiking, you want to wear clothes that are durable and practical, and that protect you from the elements and terrain. A good example of a hiking outfit is a jacket and jeans, paired with hiking boots and a backpack.
Yoga
For yoga, you want to wear clothes that are soft and cozy, and that promote relaxation and meditation. A good example of a yoga outfit is a hoodie and leggings, paired with a yoga mat and slippers.
Accessorizing for Style and Functionality
Accessories are the key to making any outfit more stylish and interesting. They can also help you express your personality and mood. Here are some essential accessories that you should have in your sportswear wardrobe:
Footwear: Your shoes are the foundation of your sporty look. They should be comfortable, durable, and suitable for your activity.
Bags: A bag is a must-have accessory for carrying your essentials, such as your phone, wallet, keys, water bottle, and snacks.
Hats: A hat is a great accessory for protecting your head and face from the sun, wind, rain, or cold. It can also add some flair to your sporty look.
Sunglasses: Sunglasses are not only useful for shielding your eyes from the sun's glare but also for making you look cool and mysterious.
How to Maintain Fashionable Sports Gear
Let us speak about how to care for your sportswear now that you know how to play up your sporty style. Sportswear is frequently comprised of synthetic fabrics that are breathable, moisture-wicking, flexible, and long-lasting. However, particular care is required for these materials to retain their quality and performance. Here are some recommendations for caring for your sportswear:
Wash your sportswear separately from other clothes. This will prevent color bleeding, pilling, snagging, or stretching.
Use cold water and mild detergent. This will prevent fading, shrinking, or damaging the fabric fibers.
Avoid using fabric softener or bleach. These products can clog the pores of the fabric and reduce its breathability and moisture-wicking ability.
Air dry your sportswear or use low heat settings on the dryer. This will prevent wrinkling, shrinking, or melting the fabric.
Store your sportswear in a cool and dry place. This will prevent mold, mildew, or odor from developing.
In the world of sports, fashion has become a vital aspect of personal expression. By considering key factors such as comfort, functionality, fabrics, and fit, individuals can create fashionable sports pairings that reflect their unique style. I hope this essay has given you some ideas on how to create fashionable sports pairings that suit your taste and needs. Remember that there are no rules when it comes to fashion and sports. You can be creative and adventurous and find your own unique style.