The Best Lightweight Summer Running Shorts @Allison Felsenthal
Guest post by Allison Felsenthal
-
One of my go-to must-haves for summer running staples is my Baleaf Sustainable Knitted 2-in-1 running shorts.
Do you know your summer running staples that you cannot live the same without having? Summer running in the humidity and heat is more enjoyable while looking and feeling your best!
I've ordered and returned countless numbers of running shorts, and Baleaf stole my heart at HELLO! I love the front pockets, they're super stylish, and you can wear these shorts for a walk or a solid run at any pace.
Recently, I tried out the Sustainable Knitted 2-in-1 Shorts (featured below right here), which at first, I questioned whether or not they'd look feminine and cute for my body type. I am so glad I gave these shorts a shot because now, they're one of my go-to summer staples!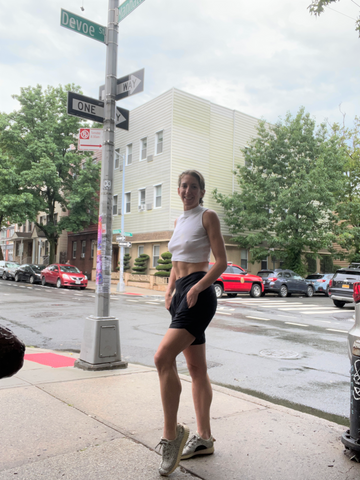 As an avid runner entrepreneur of my running business, and running coach, my schedule is jam-packed. My days can get pretty hectic, and the last thing I need to worry about is changing into a new set of clothes in the middle of the day. Since I need to be on the go quite often before and after my training runs, it's easy for me to stay comfortable walking to and from meetings. Even working at a local coffee shop, I'm still rocking a cute look but also being in my running apparel and ready to run without having to make a stop back home. 
Furthermore, meeting with clients outdoors after a quick, easy run is super easy and doable with my 2-in-1 shorts. Even though I might be a little sweaty, I love the black since it's good at hiding many things I get self-conscious about when I sweat, like sweat marks! 
Also, the breathable fabric allows me to move from activity to activity without worrying too much about getting a chance to put clothes on when I don't have the time for it! What a time saver. Getting back about an hour in my day to focus on my must-do tasks is easily accomplished, thanks to my Baleaf apparel.
I love the high waistline and the nylon fabric. I feel my look's always topped off with my sustainable 2-in-1 shorts, hiding any bloating and making me feel confident, fit, and ready to tackle any run in-store! I love the inner spandex that fits like underwear. It's comfy and well suited for summer running. 
While hitting the road during the summertime, I wouldn't say I like adjusting my shorts while running. I wouldn't say I like dealing with rashes from certain fabrics that I try to dodge as often as possible during all runs in the summertime. The zipper in the back of these Baleaf shorts is perfect for holding my ID, credit cards, and house keys, getting to leave everything else at home. It puts my mind at ease to know everything is secure in the back pocket and isn't rubbing against my back the sweatier I get, especially during my harder, tempo runs. Say goodbye to chafing with these babies.
Fun fact: 90% of Baleaf's Recycled polyester materials come from plastic bottles, and for every ton of raw materials, the company saves 8,000 gallons of water and avoids 40 tons of CO2 eq. Emissions. If only we could do such beautiful things to save our planet. Because of the packaging, the shorts came in with the newly re-designed style that's professional, biodegradable, and more eco-friendly; I automatically became an aficionado of the new Sustainable Baleaf clothing line—looking cute, supporting a sustainable cause and mission. Not much beats that!
Comfort to me is everything running in the summertime. Baleaf never fails me when it comes to comfort and cuteness. When I first came across the brand a few years ago, I was astonished by the price point of Baleaf's apparel; it's too good to be true. I immediately added five pairs of shorts to my online cart because the shorts were selling out. No wonder!
I love the fact I never have to worry about chafing. I'm NEVER IN DISCOMFORT when I get sweaty around my thighs when I run. Around my waist, the lining isn't too tight to the point of discomfort, which many shorts I wear tend to do. Baleaf's 2-in-1 shorts sit comfortably around my waist, just below my belly button, with a comfy and breathable fit! These shorts won't leave you in doubt for my fellow running girls with bodies of all shapes and sizes. I love the versatility, and now, I'm in a good mood knowing that I have comfortable shorts to wear all season long without worrying about it. Don't we all need one less thing to worry about handling?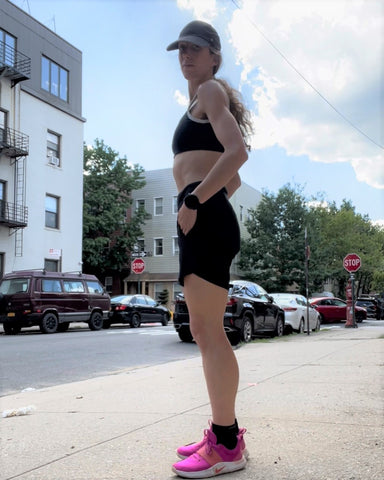 I enjoy that whether I am walking outside, sitting outside at brunch with the girls, running on the roads in the heat, or going for an early morning hike, I'm at ease in the New York summertime, regardless of the temps. WIN! 
Thanks to the lightweight, breathable, and moisture-wicking fabric. If you're looking for something cute to pair with the knitted 2-in-1 shorts, I recommend going with the sustainable crew neck tank top!
Look good, feel good, and do good with the new Baleaf sustainable line. 
If you're looking for more solely spandex shorts, I am a massive fan of the Flyleaf 4.7" Padded Cycling Shorts, too, another go-to piece of mine. They have sweat-wicking fabric and a tad more compression if you love compression shorts! Great for racing and more challenging workouts, but to each its own.
It's hard to find shorts that feel good and look good too. For any body type, lean, curvy, or athletic, Baleaf's material adapts to your body type, making you feel strong and confident with a cute look to rock around while feeling comfortable too. Such a perk! 
While you're at it, grab someone a sustainable quick-dry tee too! Everyone can use one and give to a good cause with the new Baleaf Sustainability line!
What's your favorite Baleaf go-to? 
Please share it with us in the comments under this post. Feel free to reach out to me on my Instagram @runwithalli for more details on these shorts or to the team at Baleaf on Instagram @baleafsports. 
In the meantime, enjoy your summer in the cutest apparel ever! I hope you find shorts that work best for you as I did!