Sun Protection Clothing You Need This Summer
Keywords: sun protection clothing
Other Keywords: UPF50+, sun Hoodie, athleisure, sun Shirt
Using a quality sunscreen with a high SPF comes naturally to almost all outdoor enthusiasts, but that's often not the case when choosing apparel.
Many outdoor adventurers wait for the weather to get warm and sunny so they can get started with their next expedition, but they often miss out on a critical outdoor protection measure; sun protection clothing.
Let's look at what sun protection clothing means and how it can keep you cool and comfortable during all your outdoor experiences. We also share some of the must-have sun-protection summer essentials you need this season.
Sun Protection Clothing: What Is UPF?
You've probably never skipped using sunscreen when heading to the beach to protect your exposed skin, but did you know there are as many options for clothing that help protect your skin against the blazing sun?
Sunlight includes harmful ultraviolet (UV) rays, and prolonged exposure to those radiations can lead to premature skin aging, sunburn and increased risk of skin cancer. Choosing sun protection clothing designed to offer sun protection to your skin provides you greater control over how the sun's harmful rays damage your skin.
Sun protection clothing is specifically designed using the technology that factors in UPF (Ultraviolet Protection Factor); a rating system that gives you an idea of how well a fabric can protect your skin against the sun's damaging rays.
Understanding UPF Rating
UPF is a rating system used to explain the ultraviolet protection factor of apparel. Much like the SPF (Sun Protection Factor) used for sunscreens, the rating explains the fabric's effectiveness against dangerous UV rays.
Typically, the higher the UPF rating, the more extensive protection that apparel will offer to your skin in case of sun exposure. A UPF rating of 15 is the lowest, offering minimum sun protection, whereas the highest UPF rating for apparel is UPF50+ which offers the most extensive protection against UV transmission.
Here's a table for you to better understand the UPF rating.
| | |
| --- | --- |
| UPF Rating | Sun Protection Category |
| UPF 15 | Minimum |
| UPF 30 | Good |
| UPF 50+ | Maximum |
Why is Sun Protection Clothing Important for Outdoor Sports?
UPF-rated apparel upgrades sun protection for all sports enthusiasts who prefer to spend time outdoors. And it often makes the right choice as long-term exposure to the harmful UV rays is closely linked to most types of skin cancers. In fact, 90% of the skin cancers are found on areas of the skin that are exposed to the sunlight.
Use of sun protection clothing protects your skin from harmful UV rays by absorbing or blocking the radiations from the sun and offers effective protection against sun exposure, and associated sun damage.
Given its sun protection ability, UPF-rated clothing makes an ideal choice for all fitness enthusiasts and outdoor adventurers who wait for the weather to get warm so they can plan their next trip. But they are particularly helpful for certain groups of individuals, which include the following.
Individuals with sensitive skin who are more susceptible to sunburns,
Individuals with darker skin pigment as its difficult to assess sun damage on their skin (due to higher melanin content),
For young children with sensitive skin as any damage at an early age can lead to serious skin problems in future,
Individuals living at higher altitudes, as UV rays are more intense at higher elevations,
Patients taking certain medications that can increase sun sensitivity.  
BALEAF's Sun Protection Clothing Range for You
Are you a fitness fanatic enjoying long trailers on long, sunny days? Are you an outdoorsman (or outdoorswoman) craving summer adventures?
Baleaf brings the perfect apparel for you.
For sports and outdoor enthusiasts looking for outdoor adventures in the heat, Baleaf offers sun protection (UPF) athleisure that keeps you cool and comfortable when out in the sun and beyond.
The upgraded sun protection apparel by Baleaf is designed to offer full protection against the blazing sun. Using lightweight, breathable, moisture-wicking fabric, the material is constructed with an ultraviolet protection factor of UPF50+.
Let's check out some of the most amazing sun protection clothing products you can find at Baleaf.
1.
 

UPF50+ Crew Neck Sun Shirt

The simple and elegantUPF50+ Crew Neck Sun Shirt is what you need this season before you head out for your favorite outdoor adventure. Featuring a crew neck, this basic sun shirt is made using lightweight, breathable and moisture-wicking polyester that keeps you cool and comfortable while offering protection against harmful UV rays.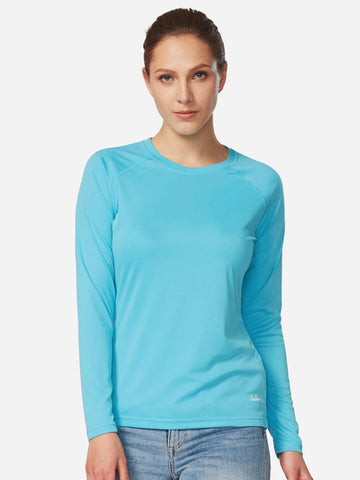 2.Laureate UPF50+ Lightweight Sun Hoodie
A perfect combination of polyester and spandex, this Laureate UPF50+ Lightweight Sun Hoodie is one of the classic sun protection products offered by Baleaf. The lightweight sun hoodie features a high neck with a full zipper and thumbholes and offers coverage all the way up to the head.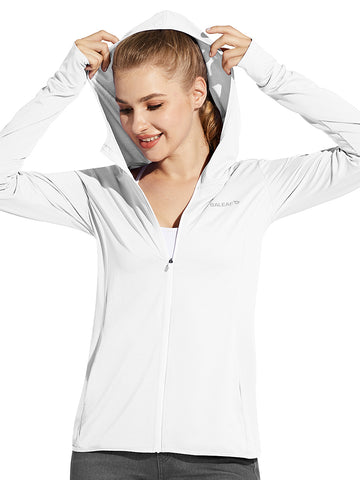 3.
 

Laureate UPF50+ Long Hoodie

A slight modification of our basic sun hoodie is the Laureate UPF 50+ Long Hoodie which offers full sun protection and features an above-knee length for extra coverage and protection for your crotch and hips. The full zipper design and large side pockets add more style and convenience.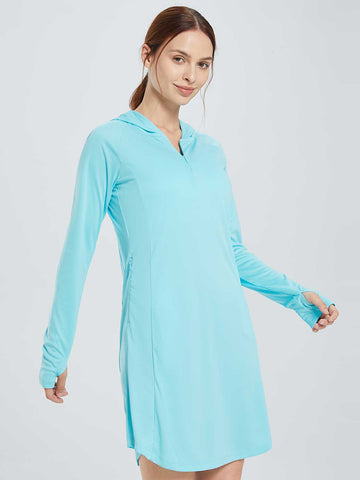 4.
 

UPF 50+ Lightweight Hoodie  

Grab this UPF 50+ Lightweight Hoodie for some extra style (and sun protection) for your upcoming summer adventure. Featuring thumbholes and ponytail hole, the hoodie is designed to keep you well-ventilated while guarding you against the scorching summer heat.  
5.
 

Laureate UPF50+ Knee Length Skort

Are you planning your next hiking or boating adventure? Or simply want to head out for an evening walk? Order this Laureate UPF50+ Knee-Length Skort today, which perfectly combines style and functionality. The knee-length skort offers sun protection that your upper legs need while keeping you cool and dry all day long.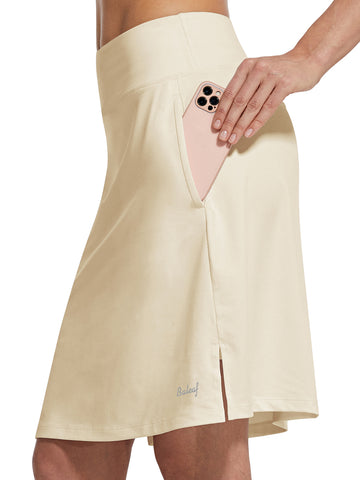 Investing in sun protection clothing is as important as buying good sunscreen for your skin. Not many outdoor adventurers realize this, but choosing UPF-rated apparel adds an extra layer of protection for your skin and guards you against sun damage.
So what are you waiting for? Order your favorite sun protection apparel at our baleaf now!