The History of Skorts: From Tennis Courts to Everyday Wear
Skorts, a combination of skirts and shorts, have an interesting history that spans several decades. What emerged as "trouser skirts" in the 1890s transformed into a practical and stylish garment for women in sports, particularly golf and tennis. Over the years, the popular fashion choice evolved and now serves as great everyday wear that allows women to move freely in style.
Let's delve into the history of skorts and their journey from the tennis courts to everyday wear.
The History of Tennis Skorts
Long ago in the 18th century, when wearing pants was considered masculine, women often had no choice but to limit themselves to skirts.
However, traditional skirts were longer and did not allow unrestricted movement for certain tasks, such as riding a bicycle which led to the emergence of trouser skirts. Those skirts were longer than today's modern skirts; however, they were shorter enough to allow for a comfortable bike ride.
Transitioning From Tennis Court to Everyday Wear
As women continued to embrace more responsibilities and gained exposure to the outside world, they quickly entered sports fields, including tennis. Since playing tennis required more restricted movement on the court, traditional or trouser skirts weren't a practical choice which led to the emergence of divided skirts.
Over time, divided skirts along with shorts hidden beneath them allowed women to maintain a modest look while getting the ease of movement required for the sport.
For the next few decades, skorts continued to be primarily associated with sports. However, in the 1980s and 1990s, skorts experienced a surge in popularity as a fashion trend. They were available in a variety of colors, materials, and styles, making a perfect choice for various occasions, from more casual day events to formal dinners.
Hence, skorts emerged as a chic and practical option which quickly turned out to be a wardrobe staple for every woman.
Today, skorts are available in a wide range of designs, lengths, materials, and colors and offer women the freedom to move without compromising on style.
Differences Between Everyday Tennis Skorts and Tennis Court Skorts
There are a few critical differences between everyday tennis skorts and skorts used in tennis courts. Let's explore the distinctions.
1. Material
Tennis court skorts are typically made using breathable, moisture-wicking material so they can offer the comfort required on the field. Moreover, the material for tennis court skorts is specifically designed for enhanced durability to cater to the needs of the sports.
However, everyday tennis skorts are available in a variety of materials and often do not have the same level of durability.
2. Length
Tennis court skorts are typically shorter skorts that allow for unrestricted movement on the court. Moreover, they offer a more snuggled fit around the waist and hips, allowing for rigorous court activity.
However, everyday tennis skorts are available in a variety of lengths that allow for different occasions and preferences.
3. Design
Tennis court skorts have a more functional design that allows for enhanced sports performance, whereas everyday tennis skorts are more of a fashion staple and are available in a wide range of colors, designs, and patterns.
How to Choose the Right Tennis Skorts
If you're looking for a tennis skort for yourself, you need to consider a few factors which ensure your movement, comfort, and style on and outside the court.
Key considerations when choosing the right tennis skorts include the following.
Your Needs – How you intend to use your skorts can be a significant determinant when choosing one
Fabric – Go for lightweight, breathable, and moisture-wicking fabric
Design – Choose tennis skorts that best reflect your preference and personality
Fit – Look for skorts that offer a secure and comfortable fit
Construct – Don't overlook the construct of the build-in shorts when choosing skorts
Price – Opt for skorts that align with your budget.
With these considerations in mind, you can choose the best skorts for yourself.
Knee-Length Tennis Skorts For You!
1. Evergreen UPF 50+ Cotton Skorts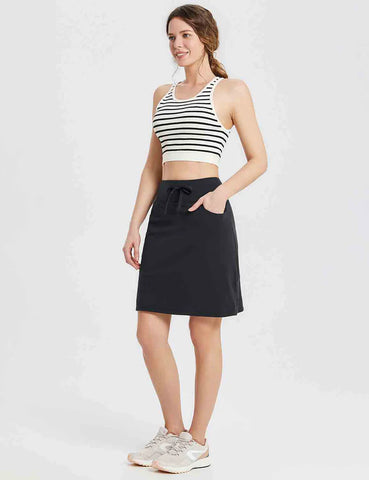 Are you looking for a casual knee-length skort that's perfect for all indoor and outdoor activities? Check out our Evergreen UPF 50+ Cotton Skorts that offer more coverage without restricting your movement.
Made using breathable material, these cotton skorts offer sun protection, making them a perfect choice for warm weather. Moreover, featuring a high-rise style and drawstring closure, these skorts are designed to provide better tummy control and a customized fit.
So why not go for these casual knee-length tennis skorts for ladies, which are a perfect choice for all seasons?
2. Laureate UPF50+ Knee-Length Skort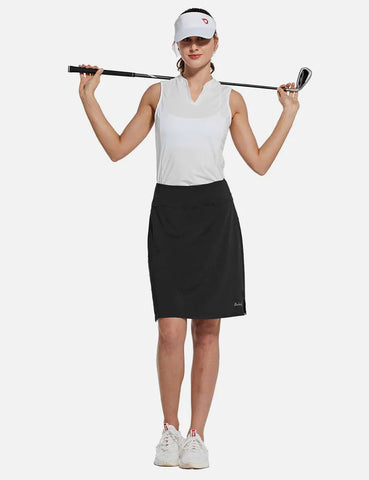 These Laureate UPF50+ knee-length skorts make another great choice for women's tennis skorts. The skorts feature a high-rise style and knee-length for modest coverage.
Moreover, these skorts are made using breathable, moisture-wicking fabric that keeps you cool and comfortable on and away from the tennis field.
3. Sustainable UPF50+ Knee-Length Skort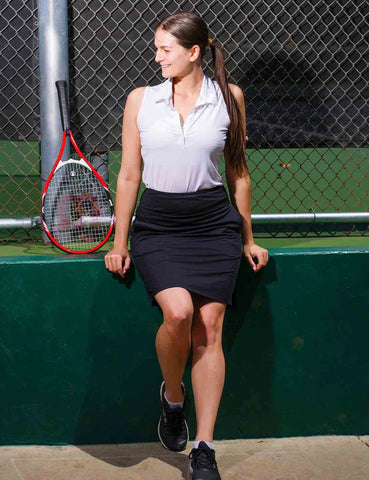 Make an environmentally-friendly choice by choosing these Sustainable UPF50+ knee-length skorts. Made using recycled polyester, these breathable, moisture-wicking skorts offer sun protection and feel great on your skin.
Moreover, the sustainable fabric allows you to positively contribute towards cleaner earth.
4. Laureate Knee-Length Lightweight Skorts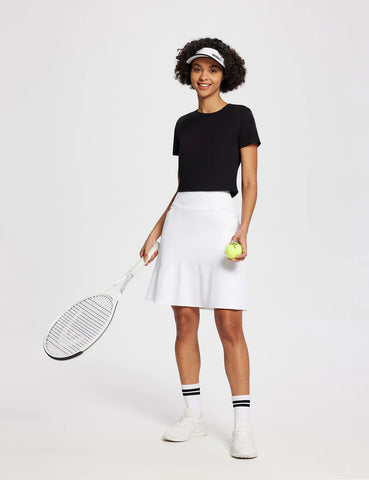 One of the other stylish knee-length skorts that you should add to your wardrobe this summer is Laureate knee-length lightweight skorts.
These skorts are made using lightweight, breathable, and quick-drying fabric that' is skin friendly and optimizes comfort.
Moreover, these knee-length lightweight skorts feature a high-rise style, drawstring closure, and ruffle bottom, which makes them a perfect combination of style and comfort.
Final Words
Skorts, which have traditionally been associated with sports, are now a wardrobe essential for every woman. Offering a mix of style and versatility, skorts offer ease of movement, comfort, and sophistication in various ways.
So, what are you waiting for? Order one for yourself today!